Bank Fishing 101: Gear, Best Time & Places, Tips
Fishing is an inexpensive hobby that allows you to rewind yourself and enjoy a peaceful day away from city life. Bank fishing is one of the popular forms of fishing that involves casting a line from the shore of the water body. From small water ponds to large lakes and rivers, bank fishing can be done anywhere.
However, the trick to successful bank fishing is understanding fishing techniques and packing the appropriate gear. Further, you will need a power master like Jackery Solar Generator 1000 to charge all fishing gears. It has a high battery capacity of 1002Wh and emits no noise while working, making it an ideal bank fishing gear.
- 1002Wh capacity to power fishing equipment.

- Features multiple ports to charge appliances effectively.

- Combines Explorer 1000 Portable Power Station and SolarSaga 100 Solar Panels.

- Operates quietly.
What Is Bank Fishing?
Let's start with the basics – what is bank fishing?
As the name defines, bank fishing means fishing from banks or shores. It is typically done when the fisherman stands near the shore but above the water's edge. You only need a tethered hook dressed with a bait or lure and a rod with a reel to catch fish.
The Pros And Cons Of Bank Fishing
Bank fishing offers several benefits compared to boat fishing. This section covers the primary pros and cons of bank fishing and whether or not you should try it.
Pros
You don't have to spend money on owning or renting a boat.
Bank fishing enables you to access shallow or densely covered areas that do not have a boat ramp.
You can fish anywhere, including small rocky streams.
Cons
Unlike boat fishing, bank fishing does not offer access to prime areas with ease and speed.
You might not be able to access fishing areas far from the bank.
You cannot fish vertically in bank fishing with baits such as jigs or plastic worms from shore.
Bank Fishing Gear
Bank fishing is more accessible and involves less gear compared to other types. Below we break down some vital bank fishing gear that one must consider to make their outdoor trip successful.
Fishing Reels: Typically mounted on the fishing rod, the hand-cranked reel is used in angling. It stores the line and retrieves it after the bite. However, the choice of the reel depends on the size of the fish you target.
Rods: One of the most crucial fishing gear is a rod. The role of the rod is to cast a bait or lure into the water. Therefore, choosing a lightweight, sturdy rod for bass and trout is ideal.
Spinning Combos: One of the most common reels is a spinning reel made of high-quality aluminum materials and carbon fiber. They are more straightforward than bait casters and can cast farther than typical closed-face reels.
Fish Finder: Another popular bank fishing gear is an electronic, wireless, castable fish finder. The gadgets help you see underwater to find fish hiding locations, speed, aqua structure, and depth temperature.
Best Baits: The best bait for bank fishing is the one that gets the highest bites. Many fishermen prefer a finesse rig that might be a creature, worm, weightless Senko-style bait, etc., as their best bait.
Fishermen fishing a shoreline with many weeds near the bank may prefer Texas-rigged weeds. Some other live baits you can try for bank fishing include minnows, frogs, worms, etc.
Best Lures: Especially in the spring season, the bass can move to the shallows, making it harder for fishermen to catch the fish. That's why it's best to load your backpack with various lures. For example, you can choose medium-diving crankbaits, topwater walkers or poppers, spinnerbaits, jigs, etc.
Stock your bag with soft plastics like plastic creatures, beaver baits, tubes, lizards, soft jerk baits, and stick worms. You can prefer deep-diving crankbaits and 6 to 10 inches long plastic worms for summer.
Portable Solar Generator: While fishing, you will carry your smartphone, electronic rod, reel, fish finder, fishing cooler, and USB lure. That means you'll have to carry a charger to power all these devices while enjoying your trip. Jackery Solar Generators are reliable power sources for short and extended fishing trips.
The combination of Jackery SolarSaga Solar Panels and Explorer Portable Power Stations convert solar energy into electricity and store it. Equipped with multiple output ports, the rechargeable battery can power electric fish finders, reels, rods, etc.
Jackery Solar Generator 500 is a lightweight and portable charging solution. Equipped with a pure sine wave 500-watt AC outlet, it can supply stable power to various fishing devices. In addition, you can recharge the lithium-ion battery using a highly efficient Jackery SolarSaga 100W Solar Panel.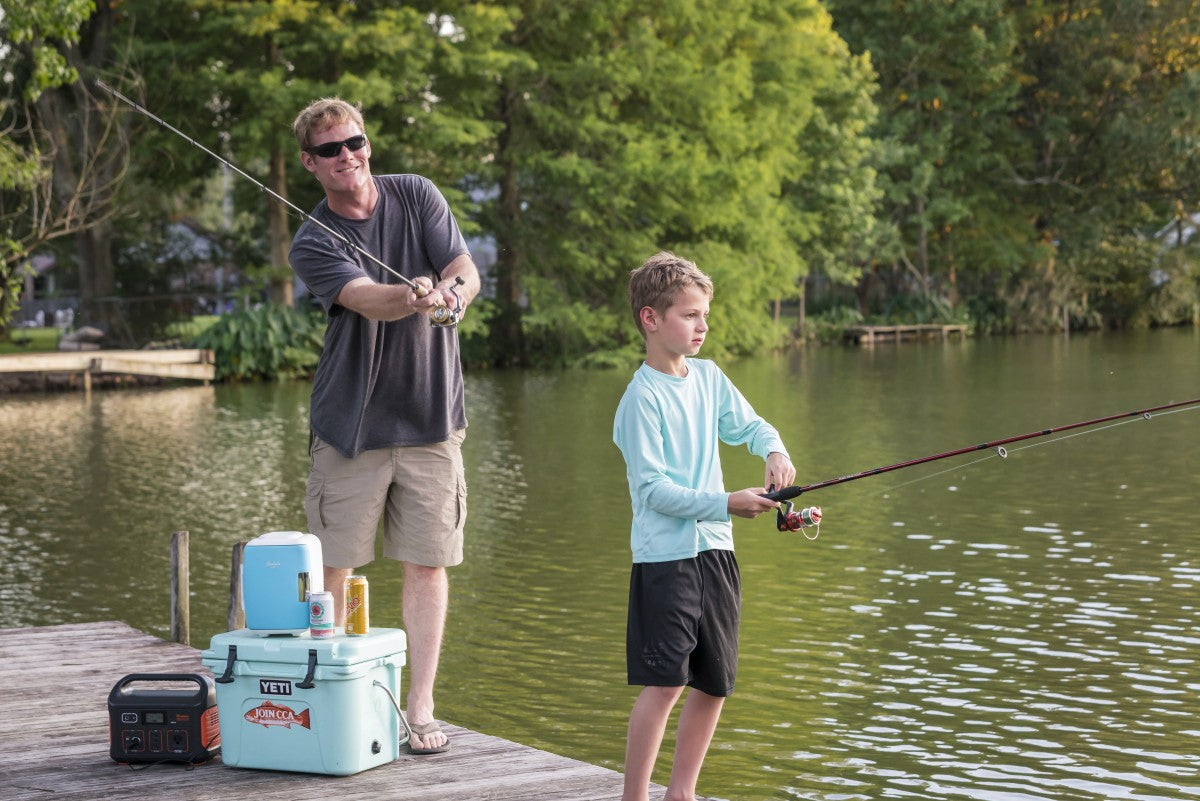 Series

Capacity

Ports

Recharge Time

Fishing Equipment

Solar Generator 500

518Wh (21.6V, 24Ah)

AC Output:  110VAC, 60Hz, 500W (1000W Surge)

USB-A Output: 5V, 2.4A

Car Output: 12V, 10A

DC Output: 12V, 7A

DC Input: 12V-30V (100W Max)

AC Adapter: 7.5 Hours

12V Car Adaptor: 7.5 Hours

SolarSaga 100W Solar Panel: 9.5 Hours

Fishing Reel (60W): 7H

Fishing Rod (10W): 44H

USB Lure (2.5W): 176H

Fish Finder (150W): 3H

Fishing Cooler (60W): 7H
Jackery Solar Generator 1000 bundles SolarSaga 100W Solar Panels and Explorer 1000 Portable Power Station. The larger battery capacity of 1002Wh, 1000W running wattage, and 2000W surge wattage helps you charge small and large fishing appliances. In addition, the solar generator weighs only 22 lbs, making it easy to carry.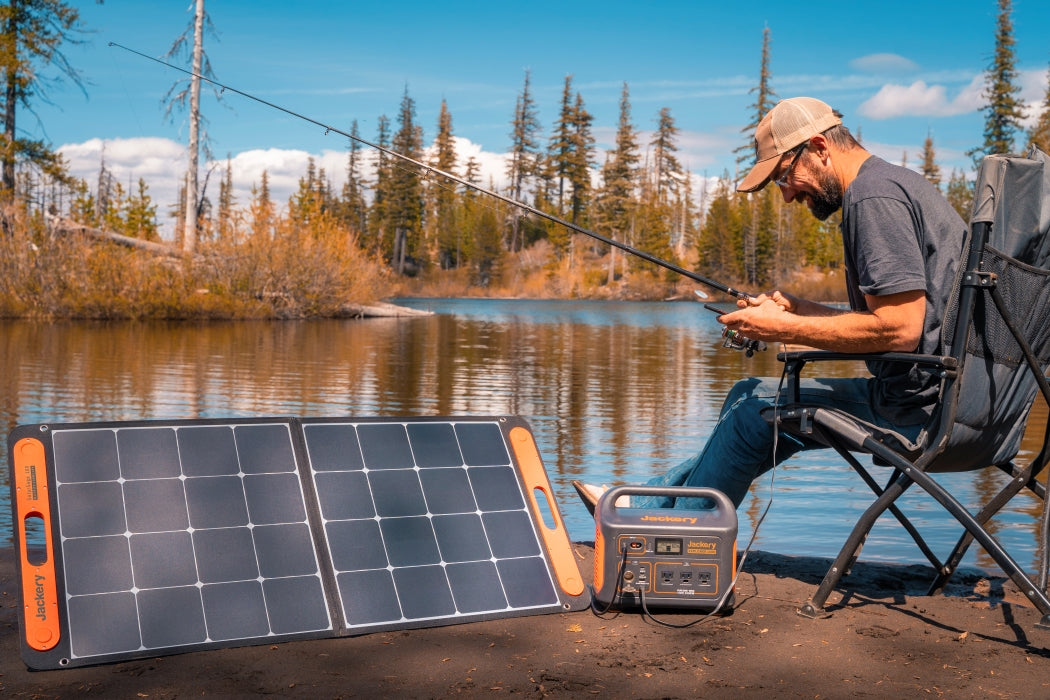 Series

Capacity

Ports

Recharge Time

Fishing Equipment

Solar Generator 1000

1002Wh (21.6V, 46.4Ah)

AC Output:         110VAC, 60Hz, 1000W (2000W Surge)

USB-A Output:   5V, 2.4A

Quick Charge 3.0 Output: 5-6.5V, 3A / 6.5-9V, 3A / 9-12V, 1.5A

USB-C Output:   5V, 9V, 12V up to 3A

Car Output: 12V, 10A

DC Input: 12V-30V (200W Max)

AC Adapter: 7 Hours

12V Car Adaptor: 14 Hours

Two SolarSaga 100W Solar Panels:   8 Hours

 

 

Fishing Reel (60W): 14H

Fishing Rod (10W): 85H

USB Lure (2.5W): 340H

Fish Finder (150W): 5-6H

Fishing Cooler (60W): 14H
What Is The Best Time For Bank Fishing?
Deciding when to go for bank fishing will determine whether your trip is successful or a bust.
Before you search for "bank fishing near me spots," ensure the weather is warm. This is because, in warm weather, the bass tends to move up shallow to feed in the mornings and evenings.
Talking about the seasons, consider planning your bank fishing trip during fall or spring. During these seasons, bass usually migrates to the shallows to spawn or feed.
Where Are The Best Places For Bank Fishing?
The aim behind finding the right bank fishing spot is to eliminate time blind casting and praying for a bite while spending more time catching.
As a general rule of thumb, choosing small ponds, private lakes, or canals as your bank fishing spots is ideal. These locations usually hold the biggest fish, increasing the chances of success.
Below are a few ways to find good places for fishing.
Accessibility: The first factor to consider while choosing the location is its accessibility. Identify how easily you can get to that place on the lake and make a cast.
Covers: Brown smallmouth prefer to hide and live under a rock, while largemouth bass lives in vegetation like brush or grass. Depending on the type of bass you wish to catch, you can look for the best spot while bank fishing.
Brush Piles: Look for an area with brush piles, which are more likely to hold bass. Boat ramps and dams are other best spots for catching bass. This is because the ramps often have algae growth which attracts baitfish and bass.
Where Can Go Bank Fishing?
Now that we have covered what is bank fishing, the best spots, and the gear list, it's time to understand which water bodies are best for fishing.
Stream: Most small streams are filled with rocks and boulders. You can find trout congregating when you fish deeper poles, under banks, and in slow water.
Small River: A fly rod is a must-have for bank fishing in a small river. To catch the fish, cast into deeper pools and slower water.
Small Lake: If you use lures to determine the depth of fish from shore, work with a nearly 45° angle. On the contrary, if you use live bait, forget casting and directly launch the bait.
Farm Pond: It's best to use live bait in farm ponds as they are usually stocked with trout or bullheads.
Big River: Skip the 45° angle in big rivers and cast your bait as far out as possible.
Bank Fishing Tips
Often, bank anglers keep chasing the fish without catching one. That is why we've curated a list of the best bank fishing tips that help you catch big bass and make your trip a success.
Wear Dark Clothing: While this may not be the most comfortable clothing during summer, dark clothes can help you catch fish faster. As bass and other fishes have better eyesight, avoiding bright-colored clothes is ideal.
Be Quiet: While moving along the shore, you must be quiet and keep movements to a minimum. Remember, loud voices, footsteps, etc., can vibrate the surrounding water and put fish on the edge.
Practice Casting: Shore fishermen generally have less area to fish. It's always better to learn to cast the places other people can't reach.
Pack Light: During bank fishing, you will need to be mobile. Therefore it is advised to pack light. Carry three to four rods and reels, a portable solar generator, a fish finder, etc.
Try Different Techniques: Instead of using a single method to catch fish, use different techniques. For instance, you can consider replacing a 6-inch worm with a 10-inch worm or tossing a soft jerk bait rather than a Senko.
Bank Fishing FAQs
What size of solar generator do I need for my bank fishing?
The size of a solar generator for bank fishing directly depends on the power requirements of that appliance. For instance, suppose you are using a Jackery Solar Generator 1000 with a battery capacity of 1002Wh.
Working Time = Capacity in Wh × 0.85 / Operating wattage of the device
We suppose that you want to charge appliances that consume a total of 200 watts.
Working Time = 1002Wh × 0.85 / 200W = 4.2 hours.
What is the best method for bank fishing?
The best method for bank fishing is angling and casting a tethered hook with a lure or bait into the water. It is generally performed by a rod, reel, nets, traps, spears, snag hooks, bows, etc.
What kind of fish can I catch for bank fishing?
Some of the common fishes you can target during bank fishing include:
Trout
Chain Pickerel
Carp
Bullheads
Catfish
Walleye
Bluegill
Yellow Perch
Crappie
Bass
Final Thoughts
Spending a day on that water is one of the ideal ways to rejuvenate and enjoy peace of mind. Before packing bags and leaving for bank fishing, carry all the must-haves in your backpack.
Jackery Solar Generators are lightweight, portable charging solutions that simultaneously power multiple devices.
One important thing to note is that Jackery Solar Generators have a pass-through charging feature. That means you can keep the solar generator plugged in for recharging while charging your appliances.
---