Thru-Hiking 101: Everything You Need to Know
You are an energetic hiker who enjoys pushing your limits. Your next task will be to hike from hut to hut on a mountain track or to trek over the Himalayas. Longer trails eventually become your objective, and you fantasize about hiking that one trail.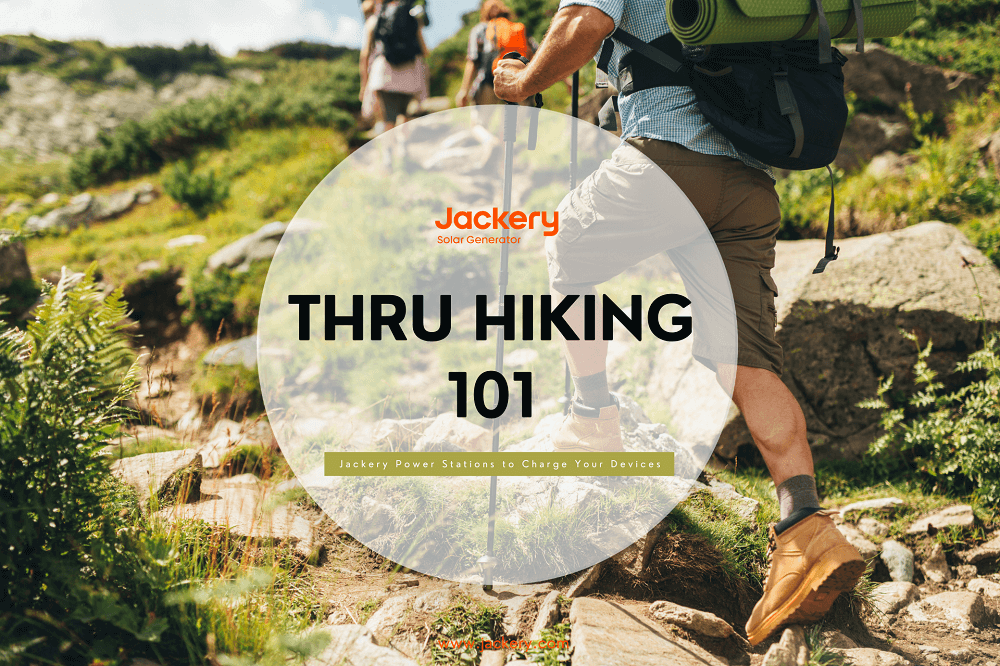 Thru-hiking is the act of traveling a long-distance path from beginning to end. In most circumstances, you will travel through various areas or even countries. However, this is sometimes true because some long-distance trails go through smaller regions.           
The goal is to hike the trail in one or more seasons and one trip. This may necessitate the hiker deviating from the planned path. This page discusses thru-hiking and its gear, preparations, and tips. We recommend Jackery Explorer power stations to cover all outdoor power needs, and the Explorer 300 power station is excellent for thru-hiking, whether for charging your phone, camera, GPS, or light. 
 

Power on the Go: Weighing only 8.27 lbs
All-around Safety
Superior Reliability: FCC/CE, UL 94V-0 flame-retardant
Up to 10 years of use
Smart App Control
What is Thru-Hiking
The act of hiking an established long-distance trail end-to-end continuously is known as thru-hiking. A thru-hike is a backpacking trip from beginning to end on a long-distance trail such as the Appalachian Trail or the Pacific Crest Trail. The A.T. is almost 2,100 miles long and extends from Georgia to Maine, whereas the PCT is over 2,600 miles long and runs from Mexico to Canada.
To "thru-hike," a trail means to walk its entire length in one continuous journey. Thru-hiking can take anywhere from a few days to several weeks or months. Thru-hikers on lengthy trails may leave the trail to rest in town, refill on food and supplies, or enjoy the sites along the way. 
Hiking through the woods is full of delightful moments and natural beauty. You'll sit and contemplate postcard-worthy scenery. You'll have seer-like clarity and a strong connection to mother nature. You'll make lifelong friends and solid partnerships. 
What is Thru-Hiker 
What's it like to be on the trail for months at a time? Thru-hikers confront numerous hurdles, from the physical strain of walking hundreds of miles to the emotional stress of keeping motivated. 
Thru-hikers typically cover tens of kilometers every day, week after week, carrying all they need on their backs. Some thru-hikers set out alone, but many treks with hiking companions. In either case, thru-hikers should expect to meet up with other travelers along the way. 
Long trails, such as the Big Three, attract many thru-hikers. Many hikers form a "family" of trail companions who travel, camp, and offer assistance.
Thru-Hiking VS. Backpacking 
Anyone who attempts to thru-hike a trail that is more than 2,000 miles long quickly realizes that there is a significant difference between backpacking and thru-hiking. 
People must realize this pre-thru-hike exists because they rely solely on their limited backpacking expertise, gut instinct, or Uncle Harry, who knows everything. This page is for anyone thinking about thru-hiking a long trail and wanting to make sure they understand what they're putting themselves into.
You leave your job and friends to hike for six months, only to decide you don't want to do it a few days later. Hundreds of hikers every year have their expectations of a thru-hike shattered by the harsh reality of the trail. One in every five potential Appalachian Trail thru-hikers abandons the path within the first week!
Thru-Hiking Gear
Some hikers begin developing their packing techniques, progressing to light backpacking (under 20 pounds) or ultralight backpacking (under 10 pounds). These decisions require time and experience since you must know exactly how much gear and food you need to survive a week-long journey.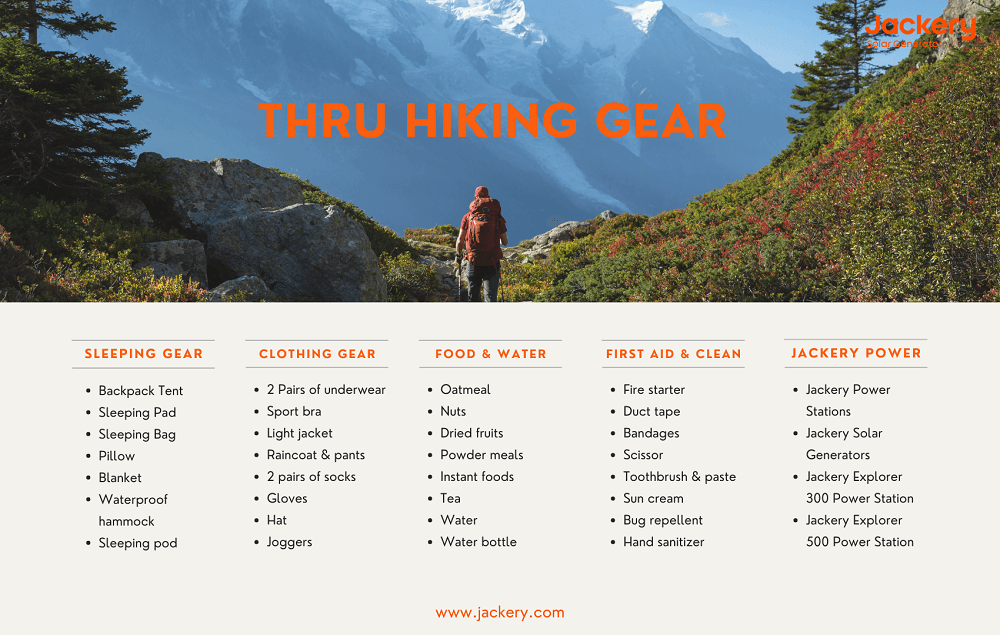 You probably already have many items you'll need if you're a hiker. As you put together your kit list for a thru-hike, consider acquiring some different gear and preceding comforts you can afford on overnights: 
Sleeping System: You can use a lightweight tent, a waterproof hammock, or a sleeping bag. Whatever you decide to pack, look for waterproof and robust solutions.
Clothing System: 2 pieces of underwear, sports bra, light jacket, raincoat & pants, gloves, hat, and two pairs of socks are included. Many long-distance hikers overdo it in this category. As a thru-hiker, you only need the necessities; anything more is considered a luxury.
Food & Water: You will need to eat a lot of oatmeal, dried fruits, nuts, and seeds throughout the months on the trail. There are various resupply stations and villages where you can relax and restock.
First Aid & Clean: Long-distance treks are not for the faint. Some hikers may develop blisters on their feet or become hurt in an unpleasant situation and require immediate essential assistance. On the trail, hygiene is just as vital as at home. 

Jackery Power Station: It is necessary, but you must own one to ensure your gadgets have power and are connected in case of an accident and you cannot communicate with others.
A power station is one of the most essential items when thru-hiking, which lets you keep your electronics charged and your lights on at night. It can also power culinary appliances, tablets, and laptop computers. It will undoubtedly make your journey more fun and comfortable.
Jackery is a prominent producer of high-quality solar equipment such as solar panels, power stations, and solar generators. The Jackery power stations are battery-powered rechargeable units. They have many AC outlets, DC carports, and USB charging connections for your trekking gear, such as your phone, GPS, fan, and headlamp.

Jackery power stations are well-known in the global solar market for their durability, portability, and uniqueness. The most prominent advantage of a portable power station is that it may be used with solar panels to convert free, unlimited, and pure solar energy into electricity.  
The Jackery Explorer 300 Plus, with a capacity of 288Wh, is ideal for thru-hiking, short camping trips, backpacking.
The Explorer 300 Plus has two Pure Sine Wave AC outlets that provide reliable and secure 300W electricity. The portable power station is only 8.27 pounds in weight. You may relax when engaging in outdoor off-grid activities.
Series

Capacity

Ports

Recharge Time

Hiking Appliances

288Wh

 

AC Output(x1):




120V, 60Hz, 300W (600W Peak)




USB-A Output(x1):




15W Max 5V⎓3A




USB-C Output(x2):




100W Max, 5V⎓3A (5V, 9V, 12V, 15V, 20V up to 5A)




Car Port(x1):




12V⎓10A




AC Input:




100V, 60Hz, 15A Max




DC Input:




12-27V⎓5A, Max, 100W Max

1*SolarSaga 40W: 7.5H

Light(5W): 50H 

GPS(50W): 5H

Phone(29W): 30Charges

Drone(60W): 5.5Charges

Headphone(5W): 50H

Wall Charging: 1.35H

Car Charging: 4.3H
Thru-Hiking Preparations
You're organizing a large excursion. Most experts agree that you should spend more time planning than trekking. Accept planning as part of the fun and start the process eight months or more beforehand. 
Thru-Hiking Trails: Big Three 
The "big three" of thru-hiking are the Appalachian Trail, the Pacific Crest Trail, and the Continental Divide Trail. Each of these paths is over 2,000 miles long and crosses numerous states through some of the most beautiful scenery in the country. 
The Appalachian Trail (AT) is a 2,180-mile-long trail from Georgia to Maine through the Appalachian Mountains. It is the granddaddy of all thru-hikes. The AT is the most popular US thru-hiking trail, passing through 14 states.
The Pacific Crest Trail (PCT) spans 2,650 miles from Mexico to Canada, passing through the Sierra Nevada and Cascade mountain ranges a few hundred miles east of the Pacific Coast. The Pacific Crest Trail runs across California, Oregon, and Washington.  
Continental Divide Trail (CDT) is 3,100 miles from Mexico to Canada - Follows the Rocky Mountain range along the United States continental divide. The route takes you through New Mexico, Colorado, Wyoming, Idaho, and Montana. 
Only some people can take six months off work to hike the AT, CDT, or PCT. Many shorter paths are still exciting for travelers seeking to experience the thru-hiking lifestyle. 
Research Trail Basics 
There is no 'correct' or 'best' method to begin your first thru-hike; it depends on your available time and what trail piques your interest. 
Do you despise rain and being drenched from head to toe? Then East Coast hiking may not be for you because it rains at least once every three days throughout the summer. 
Investigate the trails that look fascinating to you regardless of weather patterns; you may discover that you are more capable of dealing with Mother Nature's surprises than you previously thought. When deciding on a longer trail to hike, the most crucial factor is how you will get to the trailhead where you want to begin your hike.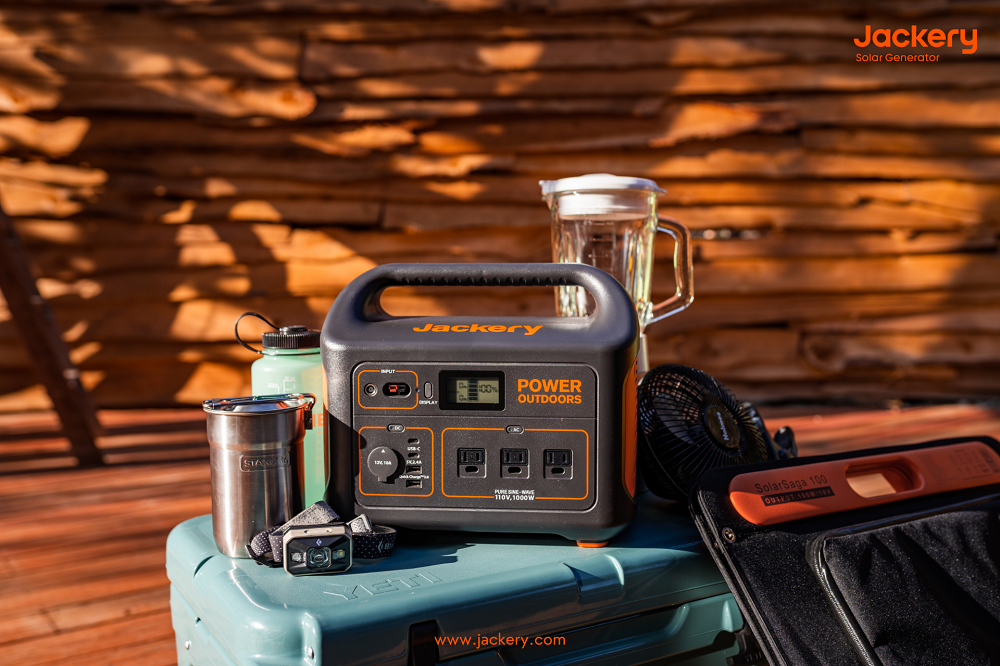 Resupply Options  
Food will be your favorite and least favorite item to tow for the kilometers. We all recognize that calories are worth the weight because they are one of the most critical components. However, a maximum quantity can be brought in at one time.
Planning your resupply locations along the way can be challenging if you have special dietary restrictions, only one mode of transportation other than your own two feet, and the unknown factor of how many kilometers you will climb each day.
Consider mailing yourself boxes of food throughout the first stages of your hike to get a better sense of your miles and what you won't want to eat out of the same five food items that stare back at you from your food bag.
Thru-Hiking Tips
Hiking is a fantastic way to get out of the house and experience the outdoors. Most people who enjoy being outside find that going on shorter walks or weekend trips allows them to keep up their hobby while still spending time with family and friends.
A six-month trek necessitates a significant time commitment on the part of the hiker. It enables children to grow, overcome fears, and become physically and intellectually strong. 
Practice Before Thru-Hiking 
No cheat code may be used to prepare for a hike on one of the paths. You'll have to practice. Day hike, try new routes, and experiment with different hiking gear to see how it performs in the wild. You may even hike various sections of the trail to understand what to expect.
Hiking is the finest method to get into superb hiking form. The most incredible way to learn about new hiking equipment is to put it to use. More backpacking excursions are the most excellent way to understand what a thru-hike is like. 
The more preparation you do before your thru-hike, the better psychologically and physically prepared you will be. Even short overnight trips will help you improve your fitness, reduce your pack weight, and build your confidence.              
Pay Attention to Your Budget 
If you use up your money, you will almost surely quit. You will need to relax and stop in several places along the way to recover and boost your mental power, but these expenses will absorb the majority of your funds. 
Please keep track of your expenditure and limit it to only the necessities. Also, keep aside at least a month's living expenses when you return home.                     
Running out of money is a proven way to finish your journey early. Prepare in advance and maintain a running tally of your expenses. Hotel stays, meal expenditures and rest days in town will eat into your budget, but they also greatly benefit your sanity. 
Keep in Touch 
Hikers may feel homesick at times. It's natural to miss the individuals you've left behind. Call them to calm their nerves and catch up on the latest news from home when you're in town to do laundry or resupply. You can also send postcards from each city you visit. We are confident that they will appreciate hearing that you are doing well.
Jackery portable power station could be one of the most critical components of your thru-hiking emergency supplies kit. How will you contact emergency services if your phone is dead? How do you intend to navigate the dark woods late at night when you've lost your way, and your flashlight's battery has died?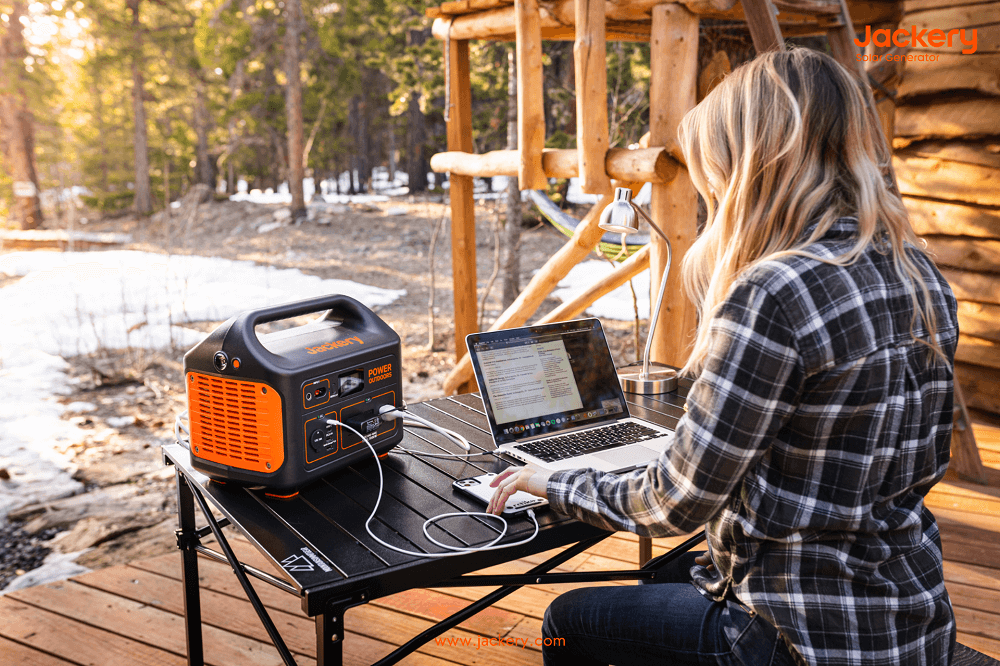 You simply cannot. Unless, of course, you have a method of powering such devices. This is where a power plant comes into play. Jackery power stations or solar generators are ideal for storing energy and allowing you to charge your devices when no other power source is available.  
Listen to Your Body 
Pace yourself first and gradually increase your daily mileage as your legs strengthen. Your body will sometimes warn you that you need to rest or proceed slower. When this happens, please pay attention to it. You can avoid injuries and mental tiredness by slowing down and taking rest days. 
Maintaining healthy feet is crucial to finishing a thru-hike. Your feet are your mode of transportation. They transport you and everything that keeps you alive. If your feet hurt, every step will pain - and you'll take around 25 million degrees. 
Is Thru-Hiking Worth It?
Most participants started into the Appalachian Trail thru-hiking with few expectations other than a great adventure and a vague sense of "growing as a person" during the route.
Hiking the AT taught folks more about themselves than they could have imagined. The experience also instilled in people good daily habits that yield dividends on and off the route.
The Benefits of Thru-Hiking
Many difficulties arise along the road, such as being rained on for days, developing blisters and chafing that ache with every step, and walking up massive mountains when you're already fatigued. These are not enjoyable experiences, but they teach you what you can overcome.
While there are many hardships along the road, being on a lengthy hike offers you joy. Feeling good about yourself every day led to you smiling and laughing more, being kinder and more giving to strangers, and being a more considerate and attentive friend to those close to you.   
The Challenges of Thru-Hiking
The majority of thru-hikers hike alone. Even though A.T. and PCT hikers meet and camp with many other hikers along the way, you must be comfortable in your own company. At some point, the Zen of solitude might devolve into outright loneliness.
Looking at the data on the PCT offers a clear picture: Over 2,650 miles of hiking with a total elevation increase of less than 500,000 feet. The A.T. will have comparable metrics.
Other physical problems include blisters, serious injuries, Lyme illness, and altitude sickness. Having anticipated and overcome at least some of these obstacles will be very beneficial.         
Thru-Hiking FAQs 
The following shows the frequently asked questions about the thru-hiking:    
What size of solar generator do I need for my thru-hiking?
A power station or bank is considerably more critical when thru-hiking because it allows you to charge your gear and is a backup power source in an emergency. Jackery power stations are great for backpacking due to their durability, mobility, and safety.
Firstly, determine how much power you will need for your thru-hike before selecting the appropriate size power station. The capacity of Jackery power stations ranges from 3024Wh to 240Wh. Then you can choose one as per your needs. Here's how to calculate how long it will take to charge your hiking gear:
Working time = capacity*0.85 / your device's operating wattage
For example, if you use a Jackery Explorer 300 (293Wh capacity) to charge a 5W light for a thru-hike, the light will last 50 hours (293Wh*0.85/5W).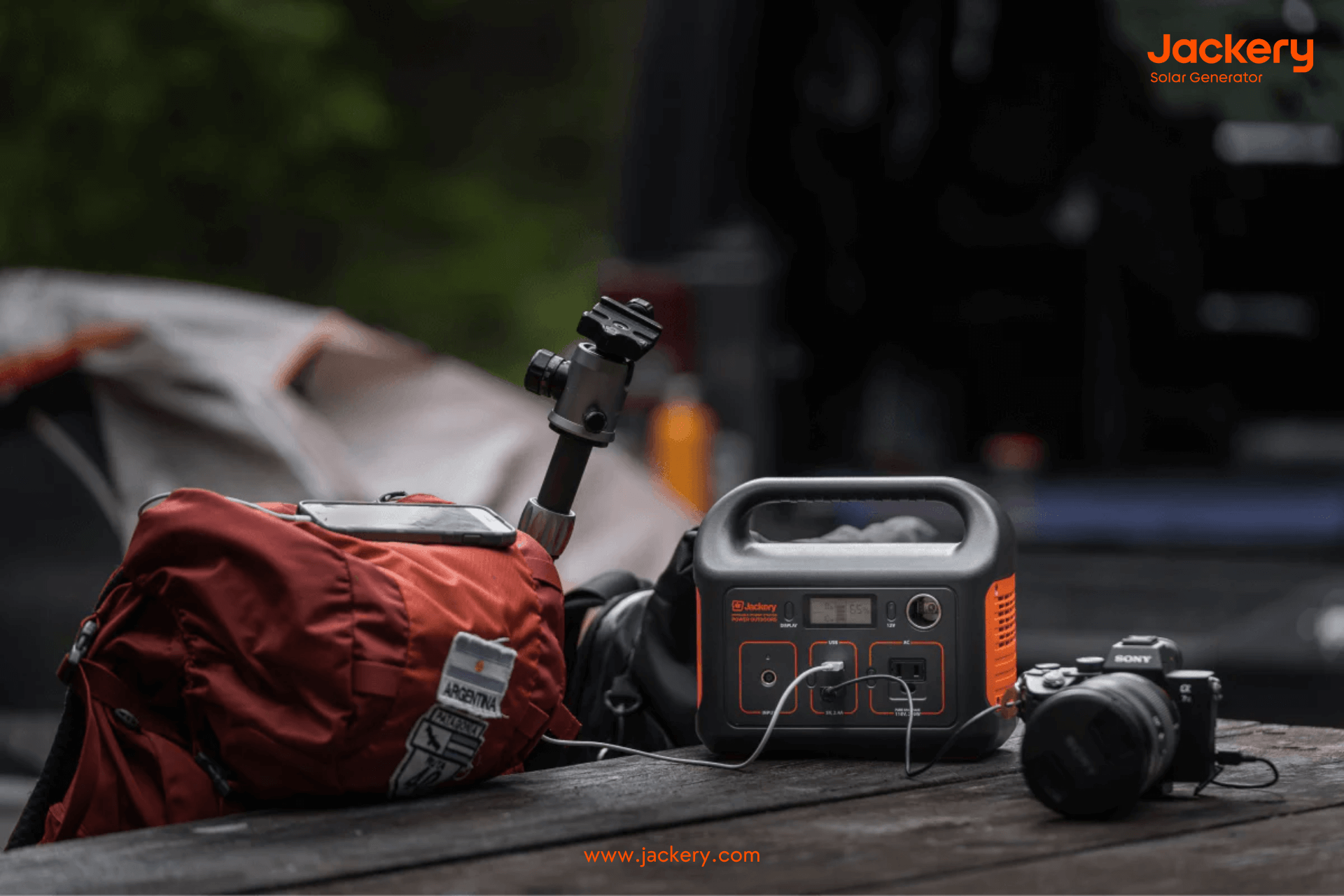 How hard is a thru-hiking?
Hiking the entire Appalachian Trail is a complex and time-consuming task. It requires considerable physical and mental effort and determination. The terrain is mountainous way as a whole, with elevation gain and loss equal to trekking Mt. Everest from sea level to summit 16 times.
How long does a thru-hiking take?
The average thru-hiker takes 5 to 7 months to complete the A.T. After determining when and where to start and registering your thru-hike, you'll need to arrange your resupply points and understand the A.T.'s camping laws.
Final Thoughts
A thru-hike will be one of your life's most profoundly fulfilling accomplishments. It's a completely life-changing experience. You'll spend months communing with nature, gaining incredible endurance, and making lifelong friends. Gathering the guts to embark on your first thru-hiking may be one of your best decisions. 
That could be theatrical, but thru-hiking is a challenging task. Here are a few tried-and-true recommendations to get you started on what will undoubtedly be one of your life's most challenging and rewarding trips. Include a Jackery power station on your thru-hike to power all your appliances.
---