Solar Powered Grill VS. Solar Generator for Grill
A balmy evening, a yard full of friends and neighbors, and the aroma of barbecue speak volumes about a celebration. Barbecue gatherings are a fantastic way to spend time with friends and family. However, the fuel you use to roast is a rarely considered aspect of grilling. Solar-powered grills are the only option for cooking with renewable energy.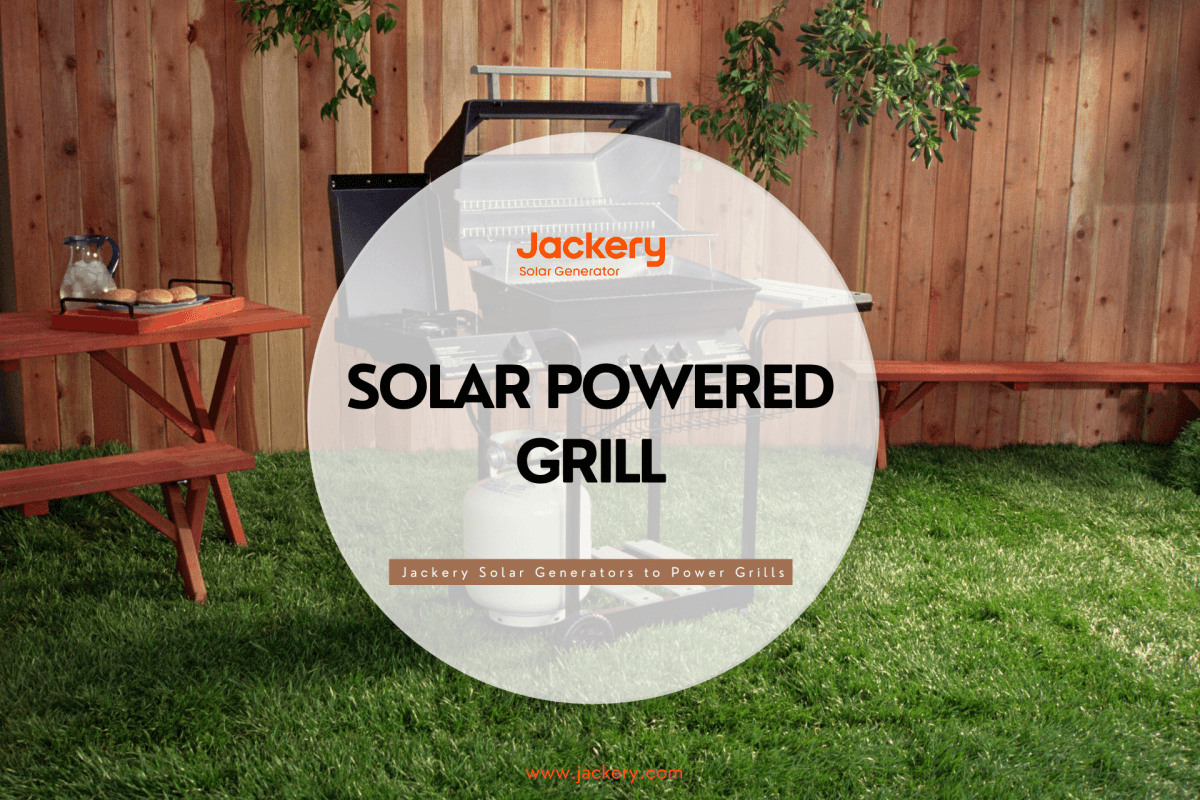 It has been observed that the typical grill uses between 700 and 2000 Watts. The wattage of your device may vary based on its brand, size, or other factors. Typically, the amperage of your grill can be found in the user manual or on the device itself.
This page describes what a solar-powered grill is, how it works, and the comparisons between a solar-powered grill and a solar generator for a grill. For charging your grills and other appliances, we recommend Jackery solar generators, specifically the Solar Generator 2000 Pro, which has a 2160Wh capacity, 2200W AC power, and 4400W surge power for a quick and seamless experience.   
- 2160Wh capacity, 2200W AC, 4400W peak power 

- Multiple recharge methods: solar panels, AC, carport

- The first-rate lithium battery

- Easy to use with just a press

- 5-Year warranty
What is A Solar Powered Grill
No matter in hot summer or in a severe arctic environment, these solar grills can help you utilize solar energy to cook food for yourself and your family, regardless of the weather conditions.
Solar-powered grills enhance the flavor of food because they are utilized outdoors. This indicates that no unwelcome heat could cause temperature increases and influence the cooking process.
It continues from there. Solar grills utilize natural energy from the Sun, which will help you preserve most of the food's natural nutrients, thereby preserving most of the food's original flavor. When using a solar barbecue, you also benefit from the lack of airflow within the solar oven.  
How Does A Solar Powered Grill Work
The solar-powered barbecue is stored in a vacuum tube that captures the Sun's energy. As illustrated, the compound parabolic reflectors directly concentrate the Sun's broad light spectrum on the box. Three metal layers are sealed inside the tube, enabling light rays to enter but not exit. These three components, the reflectors, the evacuated tube, and the metal light filters prevent heat from escaping the device, allowing food to be cooked directly from the source.
Absorb Sunlight:

 

A mirror or reflective metal reflects the Sun's rays to concentrate and intensify their energy.
Convert Sunlight:Black paint covers portions of the stove's interior to convert sunlight. Black surfaces absorb and retain heat, essential for maintaining a heated cooker.
Trap Heat:Isolating the air inside the cooker from the air outside the oven creates a significant difference in heat retention.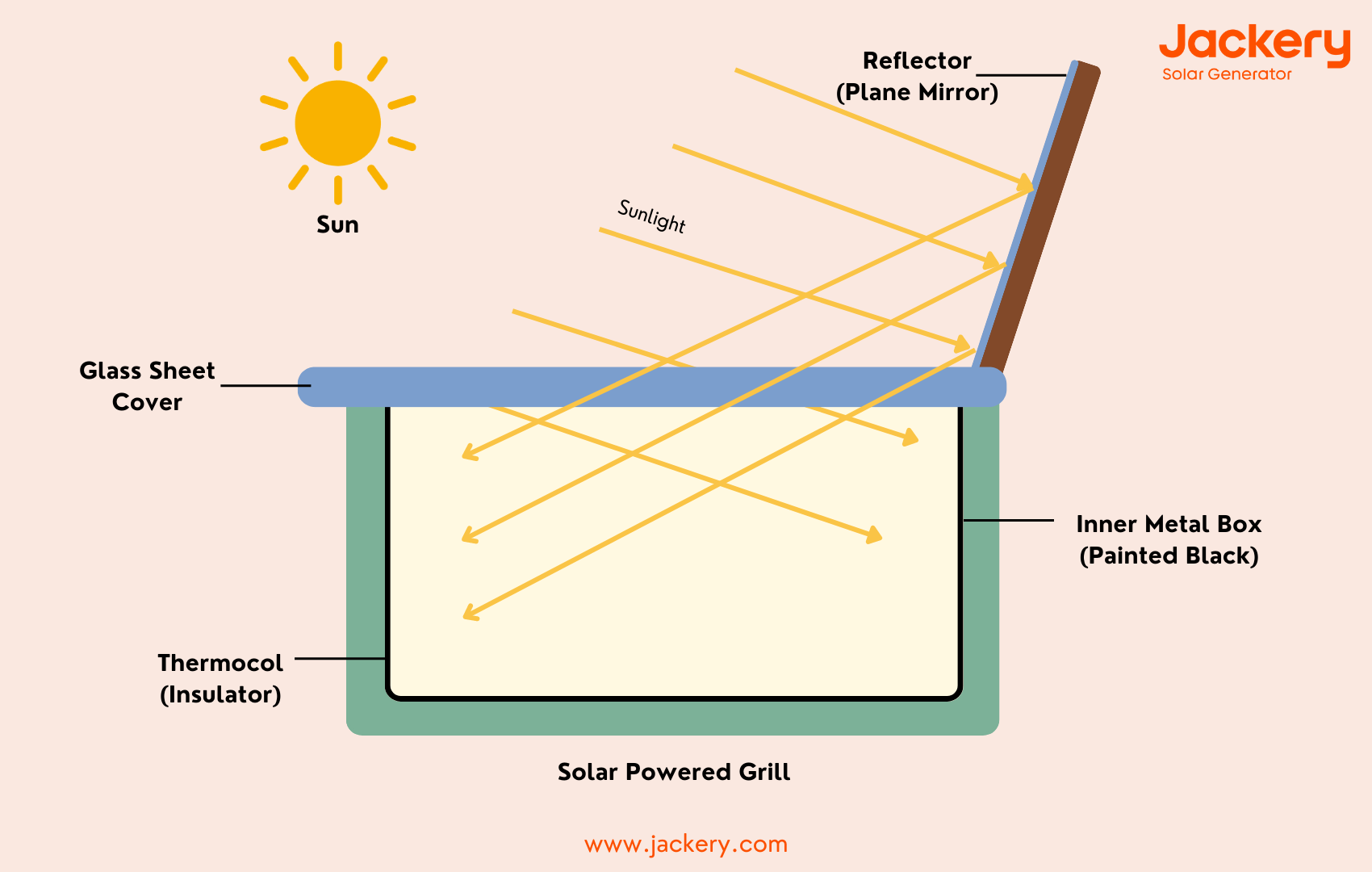 How Many Watts Does A Grill Use

 

              
Grills are the epitome of convenience, with their authentic wood flavor and effortless operation. It has been observed that the typical electric grill consumes between 700 and 2,000 Watts of energy. The amount paid for electricity will correspond to the amount paid for electricity.
Typically, pellet grills require 300 to 500 Watts to start up. This activates the ignitor, begins the drill and blowers, and activates the digital display for a few minutes. After approximately two to four minutes, the ignitor turns off when the wood pellets have adequately caught. From this point forward, only 50 watts are required, as the drill, fans, and digital display only need a small quantity of electricity.                   
How Much Solar Power Does A Grill Need
Based on the average grill wattage of 1,500 Watts and assuming the grill is set to its maximum temperature, an electric grill requires approximately 1.5 kilowatt-hours per hour of solar power. Using the usual wattage of 1,500 Watts, an electric grill would require about 30 kilowatt-hours of electricity per month if used for 5 or 20 hours per week.
| | | | |
| --- | --- | --- | --- |
| Grills | Watts | Length of Use | Solar Power Needed |
| Average | 700W-2000W | 5H/Week | 3.5kWh-10kWh |
| Small Size | 300W-500W | 5H/Week | 1.5kWh-2.5kWh |
| Large Size | 1500W-2000W | 5H/Week | 7.5kWh-10kWh |
Jackery Solar Generators for Grills
Charcoal grills may provide a supposedly superior flavor but emit volatile organic compounds and particulate matter into the air around the grilling area. This should be fine if you are barbecuing outdoors on a breezy afternoon.
Consequently, a solar-powered grill is more sustainable and environmentally favorable. The majority of people only grill during the summer. The idea of standing outside in the winter detracts from enjoying the experience. However, solar energy is not always available everywhere, so the solar cooker's orientation must be adjusted in real-time to face the Sun.
A portable solar generator is currently the most viable option, as it also converts sunlight into clean, renewable, and limitless electricity. Jackery is a solar company that manufactures high-quality solar products all over the globe, and we are a reputable solar brand. Portable SolarSaga solar panels are the first step in producing energy by Jackery solar generators. The solar panels contain photovoltaic (PV) cells that convert incident sunlight to electricity. Since solar cells do not rely on changing magnetic fields to generate electricity, as do gas generators, solar panels produce direct current.
The solar battery - portable power station used to store the energy converted by your solar panels comes next. The battery allows you to store electrical energy reserves that can be used later. For example, your solar generator is inactive at night, therefore not producing electricity.
Jackery solar generators have boxy designs with multiple connections, including USB type-C and type-A ports, DC outlets, AC outlets, and more. This enables you to power multiple devices simultaneously. When traveling, camping, hosting a backyard party, or experiencing a power disruption, a Jackery solar generator is an ideal energy source.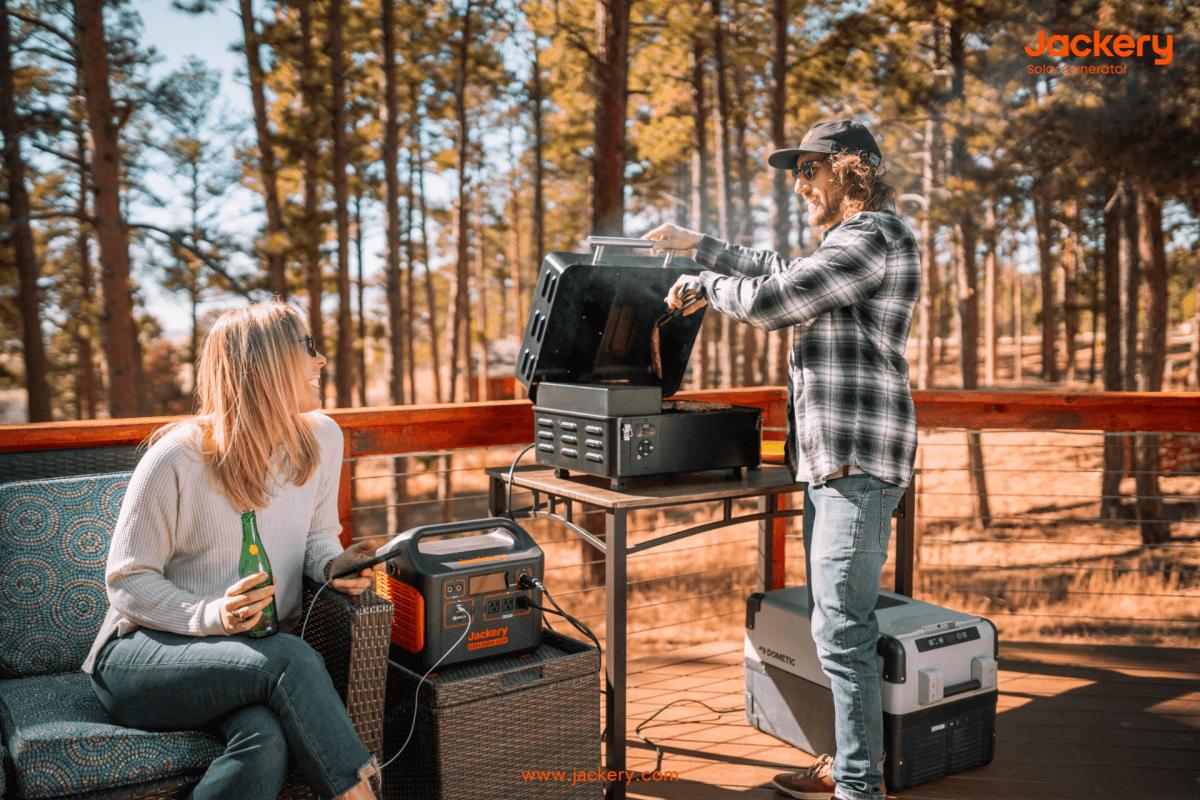 Solar Generator 3000 Pro is recommended for powering grills and other high-wattage appliances. It has a capacity of 3024Wh, sufficient to power 99% of indoor and outdoor devices and power your outdoor excursions and barbecue parties. Recharging grills that consume 700W to 2000W can provide power for between 3.7 and 1.3 hours, ensuring you and your loved ones have a fantastic party.
In addition, you can enjoy your party even on chilly days, as the Explorer 3000 Pro's output power automatically adjusts to its remaining battery level when operating in temperatures between -10 and -20 degrees Celsius. Additionally, you can control your generator through an application.
Series

Capacity

Ports

Grill Watts

Working Hours

Jackery Solar Generator 3000 Pro

3024Wh

4*AC Output

2*USB-A Output

2*USB-C Output

Car Port

AC Input

2*DC Input

Average:

700W-2000W

Small Size:

300W-500W

Large Size:

1500W-2000W

Average:

3.7H-1.3H

Small Size:

8.6H-5.1H

Large Size:

1.7H-1.3H
Moreover, the Jackery Solar Generator 2000 Pro is an excellent option for charging your grill and other appliances during outdoor gatherings. It has a 2160Wh capacity, 2200W AC power, and 4400W surge power, allowing you to quickly meet your outdoor requirements through rapid solar charging. On average, grills require 700W to 2000W, which can operate your grill for 2.6 hours to 55 minutes. Due to the numerous ports and pass-through charging, you can simultaneously charge multiple devices and the power station. Additionally, it supports various recharge methods; you can quickly charge your power station using the included solar panels, an AC outlet, or a carport.
Series

Capacity

Ports

Grill Watts

Working Hours

Jackery Solar Generator 2000 Pro

2160Wh

3*AC Output

2*USB-A Output

2*USB-C Output

1*Car Port

1*AC Input

1*DC Input

Average:

700W-2000W

Small Size:

300W-500W

Large Size:

1500W-2000W

Average:

2.6H-55Mins

Compact Size:

6.1H-3.7H

Large Size:

1.2H-55Mins
Solar Powered Grill VS. Solar Generator for Grill
Solar-powered grills have the distinct advantage of grilling, boiling, or sauté entire meals, adding variety to outdoor gatherings. Even on cloudy afternoons, the best-designed grills can be used.
In addition to producing delicious food, you may be interested in learning about the additional benefits of solar grills. These advantages may convince you to transition from charcoal, gas, or electric grills to those that harness the Sun's abundant energy. Solar cookers are used to prepare food and sterilize water for consumption. They utilize a renewable energy source that is both free and non-polluting.
It emits fewer greenhouse gases than charcoal, and a grill powered by natural gas has a modest environmental advantage over charcoal. In addition to carbon dioxide, the combustion of natural gas produces smog-causing nitrogen oxides and other toxic byproducts.
However, solar grills are less effective than you may believe on cloudy, rainy, or nighttime days. They require direct sunlight to utilize solar power fully, and you must locate the optimal angle to absorb as much solar energy as possible.
In contrast, portable solar generators are unaffected by weather, sunlight, location, or orientation. This means that solar generators can be used at any time and place, as solar panels can be installed anywhere to absorb and convert sunlight and then stored in a power station for later use.   
Types

Pros

Cons

Solar Powered Grill

- Healthy meal  

- Clean energy

- Sustainability

- Save electricity bills

- Portability

- Versatility

- High dependent on direct sunlight

- Not suitable for some rainy areas

- Adjust the angle to absorb sunlight

- Need a longer time to cook

- Can't cook anything

- Pricey

Solar Generator for Grill

- Clean energy

- No emissions & pollution

- No installation & maintenance

- No restriction on weather, location, and angle

- Cost-effective

- Not only power grills but most appliances outdoor

- Portability, easy to use

- Some solar generators with large capacities may cost a little (but are cheaper than some solar grills)
Solar Powered Grill
A solar-powered grill is a device that utilizes the power of direct sunlight to cook food. The box-shaped solar grill is the most common design. The solar-powered grill combines barbecue and soup, and porridge preparation capabilities. It produces delectable cuisines without using fuel. It is secure, portable, flexible, and appealing.
The primary components of the solar grill are the reflector, frame, indicator needle, and vacuum roast tube. The mirror can reflect sunlight and redirect it onto the vacuum roasting tube where the food is placed. Then, the temperature within the vacuum tube will rise between 350 and 440 degrees Celsius, allowing you to grill food quickly.
The primary demand for wood fuel is for cooking, which can significantly cause deforestation.
Deforestation contributes to climate change, floods, soil erosion, increased environmental degradation, poverty, and starvation. Each solar grill can save one ton of wood annually in sunny, arid climates. In contrast, solar grills typically reduce a family's wood consumption by half.
Pros:
You do not have to pay for sunlight because it is free. Solar energy's additional benefit is that it is limitless.
Unlike gas and charcoal grilling, which uses high heat to cook food and increases cancer risk, solar grilling uses low heat and only solar energy.
Solar grilling is an attractive option, mainly if you live in a warm climate.
Solar grills may be viable if you desire a more straightforward, portable grilling option with simple setup requirements.
Using open fires or stoves without chimneys for cooking and heating causes domestic air pollution.   
Cons:
Solar energy is only available in some places and all the time.
Cooking meals require more time.
The orientation of the solar grill should be adjusted in real-time to face the Sun.
It can only be utilized for some of the cooking.
Since solar barbecues are relatively new to the market, they are expensive.
Solar Generator for Grill
Although solar-powered grills are sustainable and environmentally responsible, there are several drawbacks to consider before purchasing one. In contrast, a portable solar generator is more suitable for outdoor travel, as it uses solar energy and protects the environment from emissions and pollution while also being portable.
A portable solar generator has all the advantages of a solar grill and more; it can even power one. Jackery solar generators are your party's power master; with their high capacities, they can power multiple appliances simultaneously, allowing you to host a memorable event.
Carbon emissions from the combustion of fossil fuels have been and continue to be a significant contributor to environmental degradation and accelerated climate change. Jackery solar generators, on the other hand, rely solely on sunlight and produce no emissions; they are, therefore, an ideal environmentally favorable and sustainable form of energy generation. Consequently, we can help mitigate climate change and restore the planet's health by adopting solar energy.

People often need to pay more attention to the convenience solar generators provide. Due to their portability and lightweight, portable solar panels can be set up swiftly and efficiently outside, allowing you to start your solar generator system in no time. You can choose the Jackery Solar Generator 3000 Pro and 2000 Pro to power your grills and other appliances.                
Pros:
Solar generators use the Sun's rays to generate electricity, which is entirely free of charge.
Their portability and low weight make them simple to transport anywhere.
Simply pressing a button, solar generators are simple to use.
No additional installation or maintenance is required.
Their longevity exceeds that of solar barbecues.
Solar generators are exclusively powered by the Sun and do not produce any pollution or emissions.
Solar generators are clean and silent when in operation.
Cons:
Some high-capacity solar generators may be expensive but still less expensive than some solar grills.
Solar Powered Grill FAQs
These are the most commonly asked questions regarding solar-powered grills:
1.
What size of solar generator do I need to power a grill?
When deciding how to power your grill with solar energy, it is essential to calculate the wattage of your grill's energy consumption and choose solar generators of the appropriate capacity. A grill typically uses between 700W and 2000W. Then you can select solar generators with sufficient capacity from Jackery.
How to determine how long it will take the Jackery solar generator to charge your grill:
Working hours = solar generator capacity * 0.85 / the amperage of your grill
Your grill (2000W) is powered by the Jackery Solar Generator 3000 Pro (3024Wh capacity). The equivalent number of working hours is 1.7 (3024Wh*0.85/2000W).
2.
How hot does a solar-powered grill get?
Solar grills use the Sun's free energy to heat the barbecue. On a clear, sunny day, solar cookers can produce sufficient heat for cooking. On a sunny day, solar grills can reach temperatures ranging from 65°C (150°F), which is equivalent to roasting, to 400°C (750°F), which is equivalent to grilling or searing. However, solar barbecues still produce less heat than traditional grills. Solar generators enable all types of barbecues powered by solar energy.
Final Thoughts
Solar-powered grills are a versatile option if you're searching for an eco-friendly, simple-to-assemble grilling solution. When selecting solar grills, you must consider the number of people you will be cooking for, your budget, the sunlight conditions, and your water-heating requirements. As the comparisons above demonstrate, a portable solar generator is more suitable for outdoor use than a solar grill. Jackery solar generators are your best outdoor companion for powering grills and other appliances.
---