Hammock Camping 101: Everything You Need to Know
Hammocks provide comfort in the backyard, so it's no surprise they're also popular in campgrounds. Because of how small and light they are, you can easily keep them in the trunk of your car. When properly hung, a camping hammock can be as comfortable as your bed at night.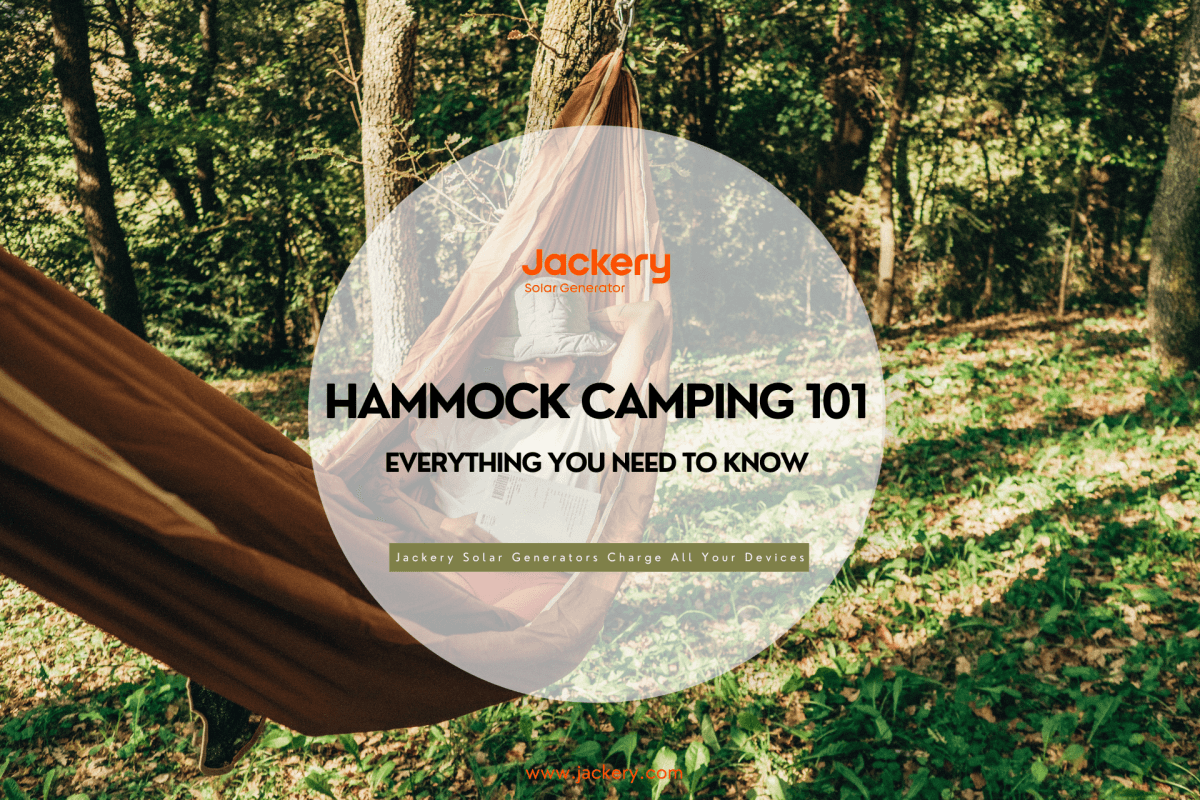 Hammock camping is becoming increasingly popular among lightweight hikers and outdoor enthusiasts, with the worldwide hammock industry expected to expand. Hammock camping is where you sleep in a hammock hanging above the ground rather than a tent or another type of campsite housing.           
If you enjoy relaxing in a hammock, try camping in one. This page covers hammock camping, its gear, tips, and how to set it up. We recommend Jackery solar generators as your power source while hammock camping or any other camping, particularly the Solar Generator 500, which is lightweight, portable, and simple to use. With a capacity of 518Wh, it can power most of your outdoor appliances.         
- Explorer 500 + SolarSaga 100W

- 518Wh capacity, 500W AC and 1000W peak power

- 3*USB-A ports, 2* DC ports, and 1*carport

- Lightest and most portable rechargeable lithium battery

- Pure sine wave 500W AC outlet
What is Hammock Camping
Hammock camping replaces your traditional tent with a hammock and a few valuable items, allowing you to sleep peacefully outside overnight. Because hammocks are lightweight and take up little space in a bag, they are popular among travelers and bikers.
Hammock campers also have a better view and avoid the discomfort of sleeping on sloping or rocky ground. All you need are a couple of robust trees. Furthermore, hammocks are much easier to put up than tents, so you'll save time and effort setting them up. A good camping hammock can improve your camping experience.
Hammock Camping VS. Tent Camping  
Nothing beats peacefully falling asleep while lying beneath a blanket of glittering stars. Except for being soft, you rocked to sleep in a hammock among glittering stars!
There is no more excellent accessory than a camping hammock to take your camping experience to the next level. Only some have had the opportunity to camp in a hammock. Some people need to be more informed about hammocks. Some of these myths have always been inaccurate, but others have recently become false due to advancements in hammock technology.
So, what is it like to camp in a hammock? Please continue reading to learn all about hammock camping and common misunderstandings!
The Pros and Cons of Hammock Camping  
Many hammock campers will only use a hammock for sleeping, and they will go to great lengths to defend its superiority to other sleeping options, including their beds at home. Here are a few reasons why hammock camping is so popular:
Lightweight & Portable: Most hammocks are substantially lighter than standard tents. Unlike heavy tent poles and stakes, Hammocks require suspension straps and the hammock itself.  
Comfortable: When you lay in a hammock properly, as we will explain later, you will be exactly level with your body supported by the hammock.  
Easy to Setup: Hammocks may be set up far faster than most tents. Once you've found a decent site, it may take a few minutes to get your hammock where you want it, and you won't have to deal with tent poles or pounding stakes into the ground.
Suitable for Any Terrain: Because hammocks are suspended above the ground, they can be employed in almost any landscape with trees.  
Despite these advantages, hammock camping does have some drawbacks. Hammock camping may not be appropriate in all situations or for all campers. Consider the following disadvantages before deciding if it is right for you:
Only for 1-2 People: Hammocks are available in single or double sizes and can support one or two people simultaneously.  
No Space for Pet: If you wish to go camping with your dog, your four-legged companion may need more room in your hammock.  
Less Privacy: When you camp in a tent or

 

RV, you have your private room where you may change your clothes or rest. But you don't have this privacy when hammock camping. While your rain fly can provide some seclusion, you should get dressed at the campground's restrooms instead.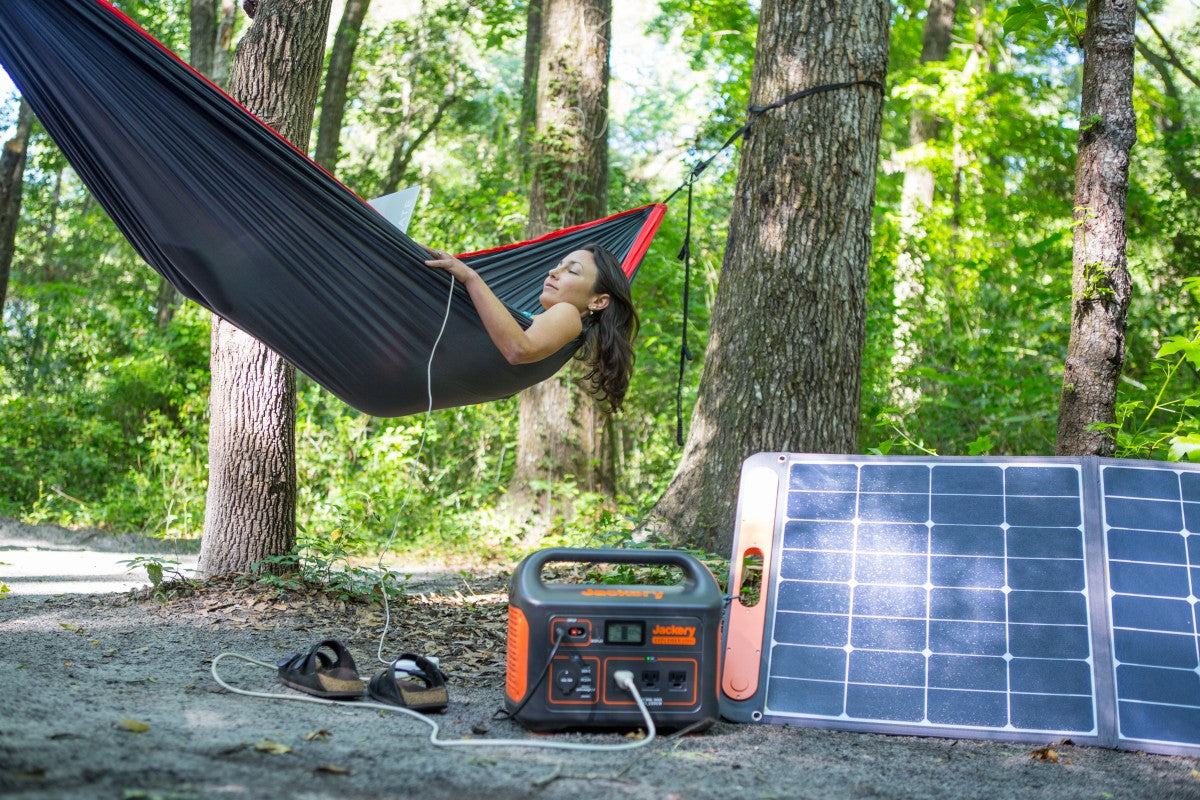 Hammock Camping Gear: What to Pack
Because you're not bringing a tent, you'll most likely have more room for a few vital essentials—and then some. You'll want some valuable equipment to make your hammock camping experience enjoyable.
Hammock camping success is determined by what you pack and how effectively your pitch. If you are guaranteed dry, hot weather in the summer, you can travel light with just your hammock. You'll need to accessorize in the winter!  
Hammock System: It comprises a hammock, a suspension, a bug net, a tarp, and a quilt.    
Jackery Solar Generator: Power all your outdoor appliances.            
Backpack or Bag: You'll need a bag to store everything.    
Hygiene & Toiletries: Keep you clean and comfy on the outside.
Kitchenware:Gather all the necessary kitchen equipment and food.
Emergency Kit: A must-have wherever you go in case of an accident.      
When hammock camping, you will need a way to charge your laptop, cell phone, lights, and other electronics. Solar generators are the best alternative for hammock camping, regardless of how long you want to stay. Solar generators turn sunlight into electricity and store it for later use, allowing generators to be used whenever there is sunlight. And, unlike gas, gasoline, or other resources, solar energy is clean and limitless.  
Jackery is the world's leading producer of high-quality solar panels, solar generators, and power stations. Because they provide clean electricity, Jackery solar generators should be your first choice for hammock camping. It is ideal for camping in natural settings where using gas for cooking or power lights harms the global and local ecology.
Jackery solar generators have all of the necessary components for solar electricity. It is portable and easily transported, unlike kits that wire a house or RV. Combine with portable solar panels that fold up when not in use. Furthermore, there are numerous ways to replenish the power station. While solar panels are the most environmentally responsible option to recharge, you may also use the grid when the weather isn't cooperating.
With a capacity of 518Wh, the Jackery solar generator 500 is one of the most portable and lightest rechargeable lithium battery generators on the market, making it ideal for hammock camping. It has a PURE SINE WAVE 500-watt AC outlet that delivers consistent power to various AC-powered hammock camping items such as a light, coffee maker, small blenders, mini cooler, and so on.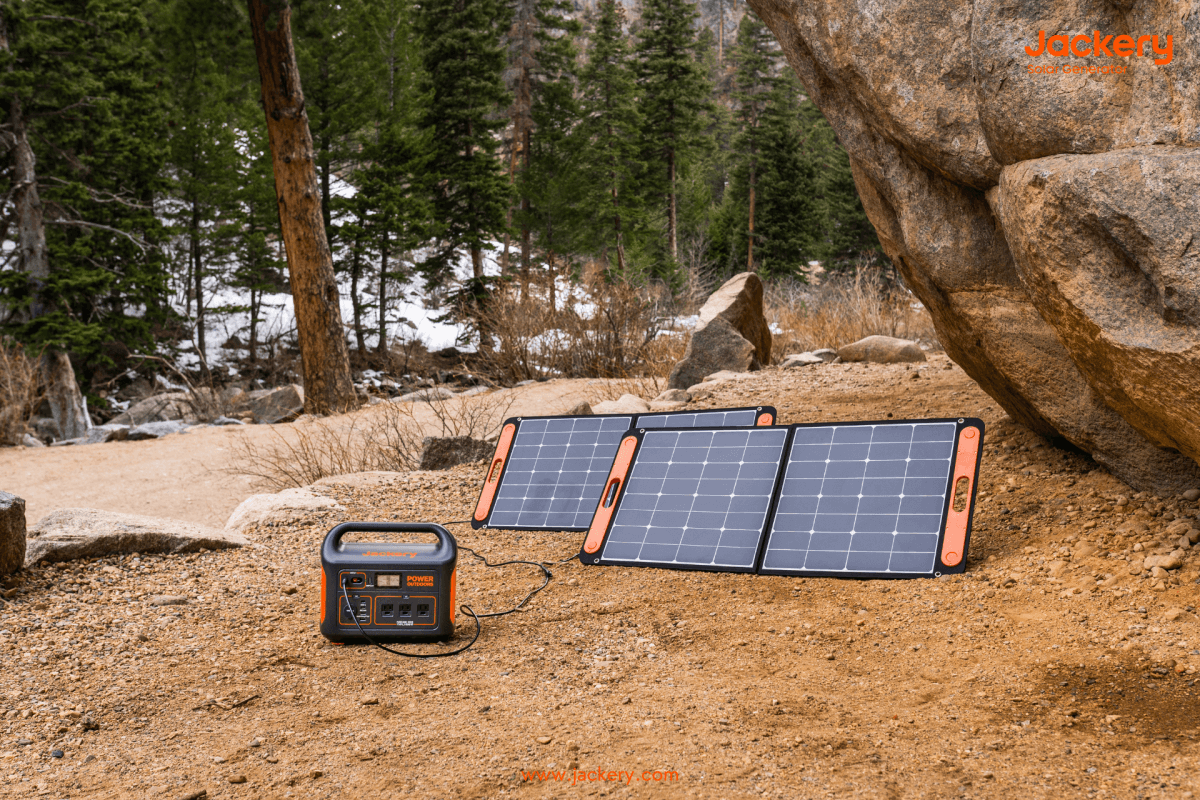 The Jackery 500 solar generator combines the Explorer 500 Portable Power Station with the SolarSaga 100W solar panels. Explorer 500 is a portable power station with three USB ports, an AC outlet, and a 12V automobile output. Professional MPPT technology accelerates solar recharging rates. SolarSaga 100W solar panels can recharge the Explorer 500 in 9.5 hours. The SolarSaga 100W also offers a high conversion efficiency of up to 24.3%.
Series

Capacity

Ports

Recharge Time

Camping Appliances

Jackery Solar Generator 500

518Wh

3*USB-A Output

2* DC Output

1*Carport

1*AC Output

SolarSaga 100W: 9H

Light(5W) 45H 

GPS(50W) 8.8H

Phone(29W) 53Charges

Drone(60W) 9Charges

Mini Cooler(60W) 9H

Wall Charging: 6.5H

Car Charging: 7.5H
Hammock Guide: How to Choose
A hammock is much more than a fabric hung between two trees. The three essential components are the suspension system that holds up the hammock, the ridge line that runs above it, and the fabric of the hammock itself. All three components are critical to the comfort and durability of a hammock.
Suspension System: The hanging system is one of the most critical components of a hammock sleep system. The best suspension methods are adjustable, allowing you to fine-tune the hammock after suspending it from neighboring trees. The most prevalent adjustable suspension devices are whoopie slings and daisy chain straps.  
Ridge Line: A ridgeline is a thin piece of cordage that joins the hammock's two ends. It spans the top of the hammock from head to toe. Some hammocks contain a built-in ridgeline, while others require you to bring your own.
Tarp: A tarp is strongly advised for a hammock. No matter how remote the probability, you'll want to keep a tarp close to shield you from the wind, rain, and snow.
Quilt: You can sleep in a hammock wrapped in your sleeping bag. The pressure of lying on your sleeping bag compresses it, reducing its ability to keep you warm.   
Bug Net: You shouldn't need a bug net in chilly weather. When the bugs are out in force during the spring, though, a bug net is a must-have. A bug-proof netting is standard in tents but not in hammocks.   
Because sleeping suspended in the air isn't something everyone is used to, you'll want to be sure your first hammock is comfy and secure.
The best camping hammock is light and composed of a quick-drying material, such as nylon. It's robust enough to support your weight and large enough to wrap around you in a cocoon-like wrap while you sleep.
Hammock Camping Setup: How to Start
A hammock tent is a combination of a hammock and a tent. It usually consists of a hammock, a suspension system, a bug net, and a tarp for rain protection to hang everything. Besides providing shelter, this structure is exceptionally sturdy and lightweight, allowing you to pack it up and carry it as you explore the outdoors.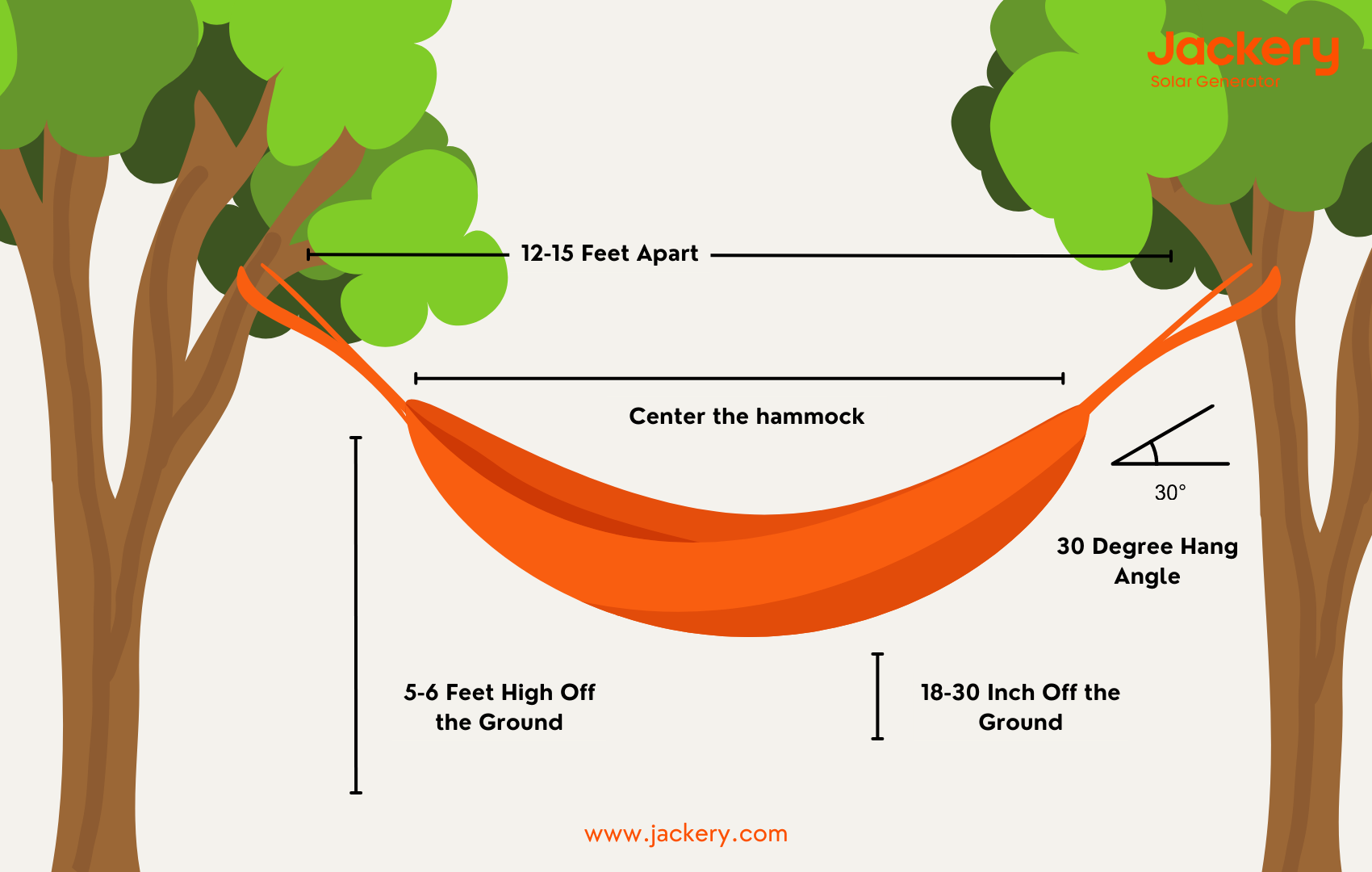 Now that you understand the fundamentals of erecting a camp hammock, here are some pointers to help you make the most of your hammock camping experience:
Choose the Proper Spot: When deciding where to set up your hammock, choosing two trees that are the proper distance apart is critical. The basic rule is that trees should be spaced approximately 15 to 20 feet apart.   
30-Degree Angle: A too-flat or bent hammock is uncomfortable. The straps should be angled at about a 30-degree angle toward the tree. The hammock's lowest point should be no more than 18 inches off the ground.  
Setup Ridge Line: Bring a length of cable that is longer than your hammock and has enough extra length to secure around both hammock anchor points. Ridgeline height can vary, but lower is better when wind-driven rain is a probability. In calm weather, some individuals raise the ridgeline so they may stand up under their rain fly.  
Hammock tarps can range in design, so it's essential to research before you buy. As a result, the whole procedure still entails staking out the tarp's perimeter and maintaining tension at the locations where it touches the ridgeline.
Setup

 

Bug Net: Many versions attach to your hammock strap on one end; then, unclip the hammock and slide the net over it. Secure the net to the hammock strap on the other end after fully extending it.   
How to Sleep in A Hammock
If you've done all the proper preparation, have the appropriate gear, and have appropriately pitched the hammock, you've gone a long way toward assuring a comfortable night in your hammock camping.
To begin, do not hang the hammock too tightly. Many novices believe this is a well-known technique to lie flatter, but this is not true. The hammock will tighten even more tightly around you, making diagonal sleeping impossible.
Then, sleep on the diagonal to avoid "shoulder squeeze" and sleep in a curved shape like a human banana, both of which cause back pain. Consider lying at a 30-degree angle from each side of the hammock.
Tips for Hammock Camping
Here are some pointers to help you have a better hammock camping experience and avoid problems.               
Check Hidden Danger: Dead trees and trees too thin to sustain weight are examples of hidden dangers. Trees should be living and thick enough that you can't entirely wrap your hands around them. Watch out for roots and lichen that could cause you to trip or fall.
Research Campground: Whether you're going to a free camping site in the United States or a paid one, research the campground before you go. Check to see if the campgrounds have any regulations or restrictions on

 

hammock camping.
While this may seem strange, some areas may have endangered trees or trees too weak to sustain hammock campers.   
Keep

 

Belongs beside You: Keep a little stuff sack with nighttime necessities inside your hammock with you. Another alternative is to store items in a gear sling accessory that hangs below your hammock and is within arm's reach.
Hammock Camping FAQs
The following shows the frequently asked questions about truck camping:
1.
Is hammock camping worth it?
The main reason you should acquire a camping hammock is for comfort. Hammock tents are incredibly comfy and provide ideal sleeping options for almost every camper. Sleeping in a suspended hammock prevents laying on cold ground, tree roots, pebbles, and other unpleasant stuff.
A hammock elevates you above the ground, where the breezes are stronger. And you don't have to sleep on a sweaty sleeping pad with a hammock. With the addition of an under-quilt, you may use the same hammock in rather chilly weather because your entire rear is exposed to the cooling night air.
2.
What size of solar generator do I need for my hammock camping?
A solar generator is much more critical during hammock camping because it allows you to power your camping appliances with renewable energy and is a backup power supply in an emergency. Because of their durability, portability, and safety, Jackery solar generators are the ideal alternative.
First, assess the power required for your hammock camping trip, then select the proper size solar generator. The capacity of Jackery's solar generators ranges from 3024Wh to 240Wh. You can choose one based on your requirements. Here's how to figure out how long it will take to charge your hammock camping devices:
Working time = solar generator capacity*0.85 / your device's operating wattage
For example, if you charge a 5W light for your hammock camping with a Jackery Solar Generator 500 (518Wh capacity), the light will operate for 45 hours (518Wh*0.85/5W).
3.
Is hammock camping safe?
Camping in a hammock is just as safe as camping in a tent. Indeed, it is even safer because you are not on the ground where deadly creatures can stomp on you. While hammock camping is generally safe, it is not without a few safety precautions.   
Final Thoughts
Hammock camping is not for everyone or every setting, but for many outdoor enthusiasts, it can give the ideal sleep and relaxation experience. While most of us are familiar with hammocking in a cool summer breeze while taking a midday nap, a hammock may also make for an ideal nighttime camping experience. This post will teach you how to assemble a hammock and some travel suggestions. Finally, a Jackery solar generator is required to power any outdoor equipment when hammock camping.   
---