The Ultimate Guide to Mountaineering Gear
Mountaineering is one of the finest ways to escape the monotony of everyday life, spend time out in nature, and improve your mental and physical health. Thanks to aerobic and resistance physical exercise involved in the activity, it helps reduce stress and anxiety. However, carrying all the vital mountaineering gear is essential before you embark on your mountain climbing journey.
Furthermore, you'll need to invest in a solar generator to charge mountaineering gear like cameras, laptops, smartphones, etc. Jackery Explorer 500 Portable Power Station is a lightweight, portable solution to power outdoor appliances. The power station with a sturdy handle and easy-to-use design can charge multiple gears simultaneously, thanks to the large battery capacity of 518Wh.
 Jackery Explorer 500 Portable Power Station
- Explorer 500 + SolarSaga 100W
- 518Wh capacity, 500W AC and 1000W peak power
- Multiple output ports can charge multiple appliances simultaneously.
- Compact, lightweight, and portable power solution for outdoor activities.
- Ideal for short hiking or climbing trips.
- Easy to use with a simple plug-and-play button.
Why Mountaineering?
Simply walking to the top of any hill and mountaineering are two different things. When the gradient and severity of the terrain require some form of climbing and sustained use of technical equipment, it is generally referred to as mountaineering.
Below we cover a few reasons why one should try mountaineering.
As mountain climbing offers a full-body workout, it helps you improve physical health and muscle movement.
Physical exercises like mountain climbing help you reduce stress and spend time with nature.
It's a great practice to meet like-minded people by joining climbing groups or clubs.
Mountaineering Gear
Investing in the right mountaineering gear is critical to make the climbing experience successful. However, choosing the right mountaineering gear essentials isn't an easy feat. To help you understand better, we have composed a list of essentials one must consider for climbing trips.
Mountaineering Clothing & Footwear Gear
Clothing and footwear mountaineering gear will help you stay comfortable during the trip. It's ideal to opt for a layering system that allows you to adjust your clothing based on the weather conditions and activity level. According to the system, you can add or remove the clothing layers per your needs.
Base Layer: A long sleeve light shirt with moisture-wicking materials will help you stay comfortable and dry during your adventure.
Bottom Layer: Prefer breathable, waterproof, and weather-resistant mountaineering pants that provide freedom of movement while trekking.
Mid Layer: The role of the mid-layer is to retain the body heat by trapping warm air. If the temperature drops, you can add mid-layer clothing.
Hard Shells: Hard shells are waterproof, weatherproof, and windproof outerwear jackets suitable for mountaineering. The goal of the hard shell is to keep you dry and warm in snow storms or rain.
Socks: While climbing, avoid wearing cotton socks. Instead, prefer thick wool or wool-synthetic blends.
Boots: Choosing the right boots for mountaineering boils down to the time of year and the mountain you're climbing.
Gloves: When traveling on glaciers at lower elevations, prefer light liner gloves. Mid-weight gloves dry quickly and are more suited for warm weather.
Hats: There are two main types of hats for mountaineering baseball hats and bandannas. While baseball hats are designed to protect the face and neck, bandanna covers the ears and neck.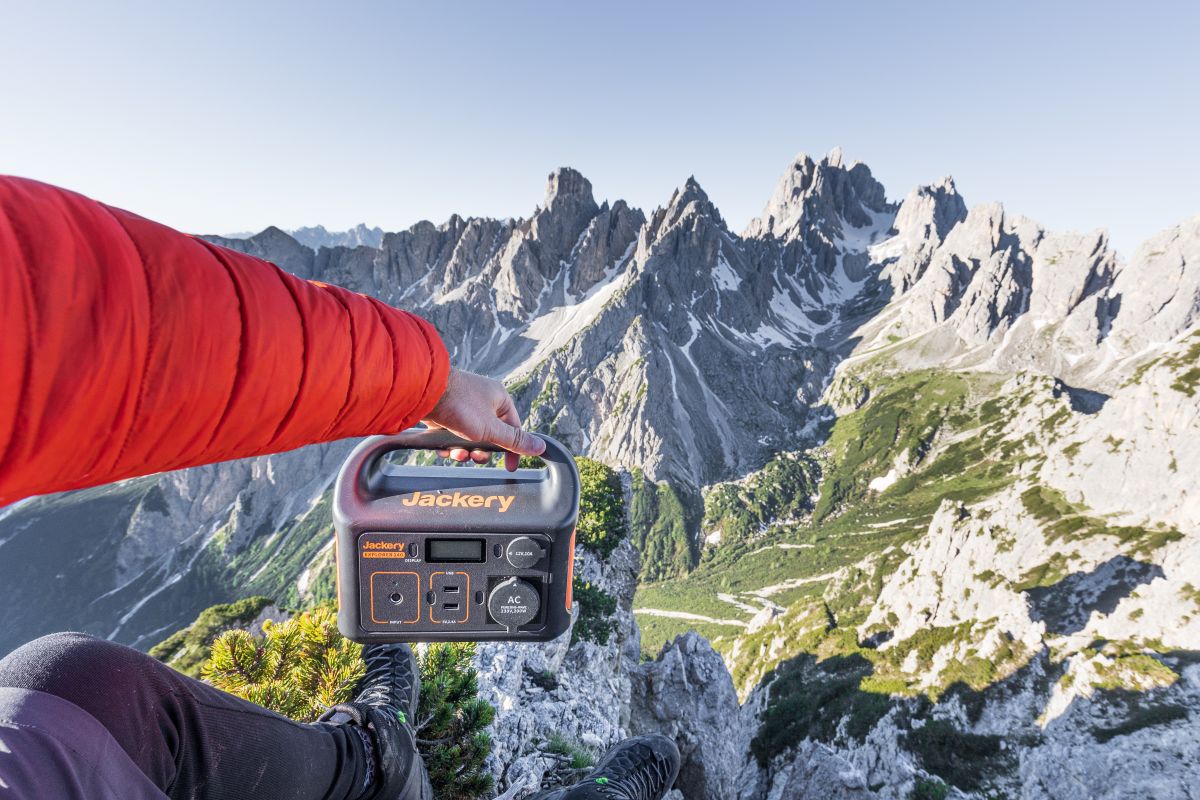 Mountaineering Technical Gear
In this section, we'll cover the technical gear required for mountaineering. Technical equipment aims to keep you warm, dry, and safe during your trip. The technical mountaineering gear list includes the following:
Crampons: Available in two materials – steel and aluminum; crampons ensure safe traveling between ice and rock bands. While steel is more robust than aluminum, the latter is lighter and may be preferable.
Helmets: Soft and hard shells are the two main types of helmets. While soft shells are lighter, they can take only one significant impact. Alternatively, hard shells are heavier but can handle multiple hits.
Ice Axes: Choosing the right length of the ice axe is essential. Ensure the shaft's bottom is close to touching your ankle when hanging in hand.
Ropes: A dry-treated rope is suitable for glacier travel as it does not soak up moisture from the snow. The length of the rope varies depending on the number of group members.
Climbing Harness: Ensure the harness has gear ropes and can easily fit over insulation layers or pants.
Carabiners: You'll most likely need a sturdy and durable carabiner to link ropes and harnesses together.
Crevasse Rescue Equipment: One of the most critical mountaineering gear essentials, the kit ensures you can set up a hauling system or a rope ascent to protect yourself if you fall into a crevasse.
Mountaineering Camping Gear
Climbers often require camping gear like a tent, backpack, sleeping bag, stove, etc. Below we include common camping items needed for mountaineering.
Sleeping System: Tents, sleeping bags, and sleeping pads are some sleeping mountaineering essentials one can consider. You may choose a sleeping bag for overnight climbing trips, while a sleeping pad eliminates worry about punctures. Those planning a trip longer than one day may choose mountaineering tents. While 3-season backpacking tents work fine, a 4-season tent can withstand fierce winds and snow loads.
Backpack: Mountaineering or climbing packs should be sleek and narrow, so you can climb comfortably. In addition, they should have ice axe loops, gear loops, etc., to carry different gears easily.
Kitchen Systems: Stoves, food, and water should be next on the mountaineering gear list. You can carry dry food that lasts longer and a few water bottles. A portable outdoor stove is essential when you climb on high-altitude snow or glaciers.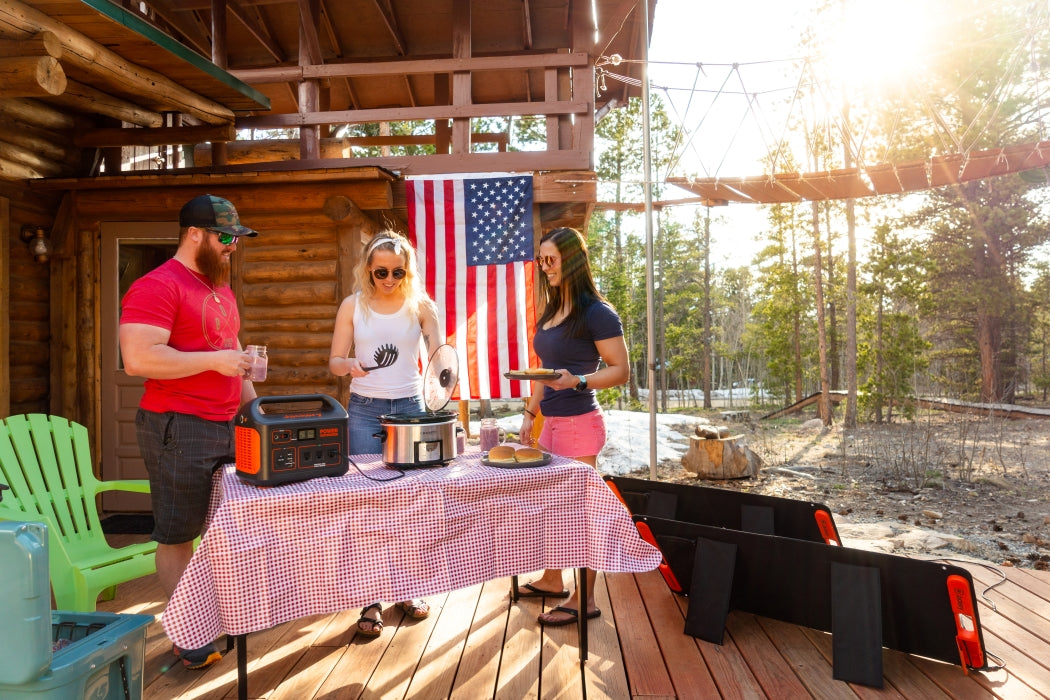 Jackery Explorer 500 Portable Power Station: As you will be carrying electronic devices during climbing, finding the ideal power station is vital. Besides small devices like smartphones, you'll have to look for a charging solution that supplies stable power to headlamps, GPS systems, torches, etc.
Jackery is a renowned global brand that manufactures high-quality power stations, solar panels, and solar generators. Jackery Explorer 500 Portable Power Station is known for its lightweight nature, mobility, and safety. You can charge the power station battery using Jackery SolarSaga Solar Panels, wall plugs, or carports.
Series

Capacity

Ports

Recharge Time

Mountaineering Appliances

Jackery Explorer 500 Portable Power Station

518Wh (21.6V, 24Ah)

AC Output: 110VAC, 60Hz, 500W (1000W Surge)

USB-A Output: 5V, 2.4A

Car Output: 12V, 10A

DC Output: 12V, 7A

DC Input: 12V-30V (100W Max)

AC Adapter: 7.5 Hours

Car Adapter(12V): 7.5 Hours

Solar Panel:1 x SolarSaga 100W Solar Panel: 9.5 Hours

Phone (5W): 88H

Drone (50W): 8.8H

Headlamp (70W): 6.3H

Fan (30W): 14.7H

GPS (70mW): 6290H
Mountaineering 10 Essentials
Carrying the appropriate gear is vital to ensure you are well-equipped for your next camping, hiking, or trekking trip. Below we include the ten essentials of mountaineering.
Navigation: Modern tools like maps, altimeters, compasses, satellite communicators, etc., can help you find a way while climbing.
Headlamp: A rechargeable headlamp or batteries can help climbers find a way during the dark, freeing their hands for cooking or climbing.
Sun Protection: Always carry broad-spectrum sunscreen of at least 30 SPF, sun-protective clothes, and sunglasses.
First Aid: Pack a compact and sturdy first-aid kit in your backpack. It should include skin closures, gauze pads, dressings, roller bandages, wraps, nitrile gloves, etc.
Knife: Knives are helpful during repairs, first aid, and food preparation.
Fire: Your backpack should include a disposable butane lighter to start and sustain an emergency fire.
Shelter: Jumbo plastic trash bags, plastic tubes, etc., are an adequate emergency shelter during heavy rains or winds.
Extra Food: Carry an extra one or two-day food supply. You can pack nuts, soup packs, instant coffee, etc., which require no cooking.
Extra Water: At least carry one water bottle or hydration bag with a water filter.
Extra Clothes: The term "extra clothes" here refers to the additional layers of clothing that can protect you during unexpected severe weather conditions.
More Mountaineering Gear
The mountaineering gear essentials differ depending on the season you plan to climb. Below we include the gear list for different seasons and weather conditions.
Summer Mountaineering Gear
During summer climbing, you must consider lightweight mountaineering gear that includes the following:  
Sunglasses
Sunscreen
2 liters of water
Non-cotton top and bottom base layers
Lightweight leather gloves
A light puffy overcoat or insulation layers
Winter Mountaineering Gear
The winter mountaineering gear checklist includes the following:
Warm hat or balaclava for under-helmet warmth
Puffy, hooded overcoat
Waterproof snow gloves or spare gloves
Crampon-compatible mountaineering boots with a rigid sole
Wool and liner socks
Sun cap
Headlamp with a fresh battery
Ski Mountaineering Gear
For ski mountaineering, you have to carry some additional gear.
Lightweight ski touring setup
Ski and boot crampons
Ice axe
Harness
Glacier travel rope
Crevasse rescue equipment
Lightweight helmet
Snow anchors
Spring Mountaineering Gear
The primary spring mountaineering gear list includes the following:
Backpack with rain cover
Hiking gaiters
High-calorie food
Waterproof or water-repellent outer layer
Trekking poles
Mountaineering boots
Rain pants
What Size Of Power Station Needed For Mountaineering?
While selecting the appropriate power station size, you'll need to understand your power requirements. Jackery is the leading solar product manufacturer offering a wide range of power stations and solar generators.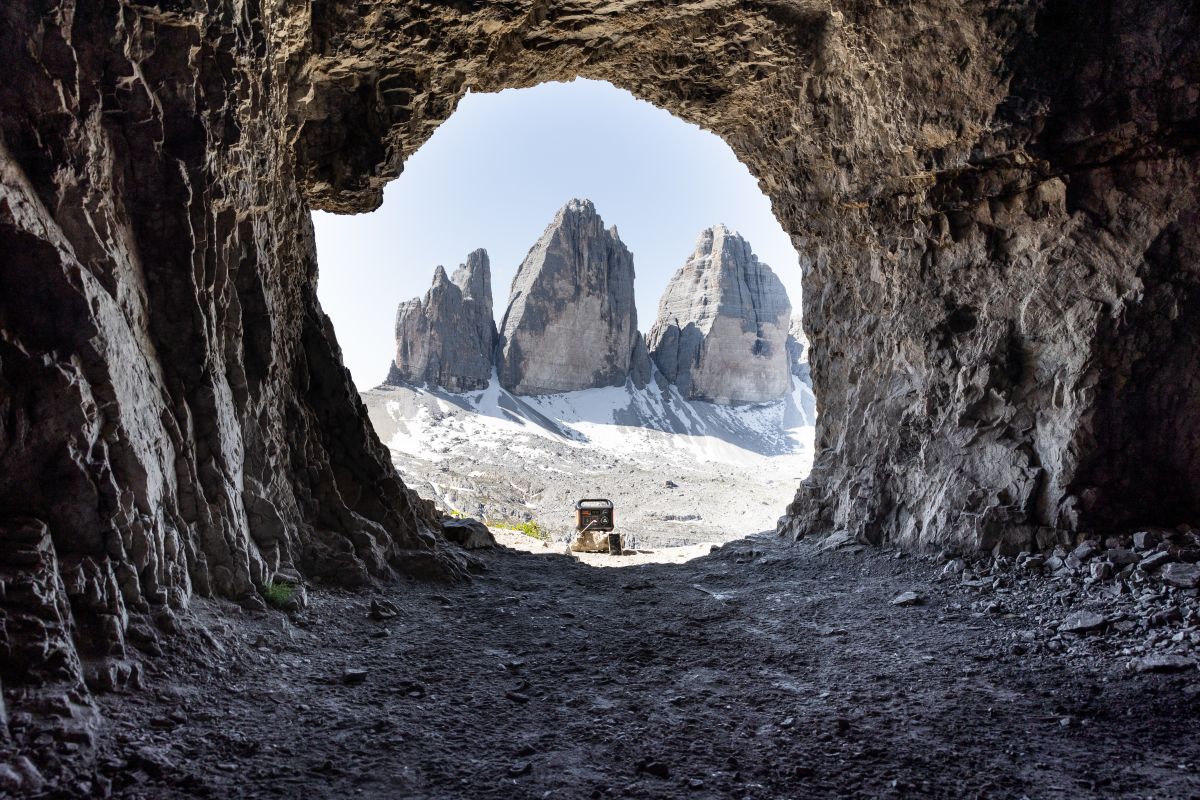 The rechargeable battery-powered generator has multiple ports, such as USB charging ports, DC carports, and AC outlets. You can charge multiple appliances simultaneously, from smartphones, laptops, and headlamps to drones and outdoor stoves, for long hours.
Here is the easy mathematical formula to calculate the size of a power station for mountaineering.
Working Time = Capacity in Wh * 0.85 / Operating wattage of the device
Working Time = 293Wh * 0.85 / 100W = 2.5 hours
Here we suppose that you are using Jackery Explorer 300 Portable Power Station with a 293W battery capacity. The power station will run appliances consuming 100 watts for 2.5 hours. If you want to choose a high-capacity power station, consider the Jackery Explorer 500 Portable Power Station. With a power capacity of 518Wh, it can power appliances longer than a power station with a 293Wh battery.
Mountaineering Tips
Reaching the top of the mountain is undoubtedly a mind-blowing experience. Here are a few more mountaineering tips to prepare yourself for the adventure.
Build the basics by including walking, stair climbing, and cycling in your daily routine.
Understand the terrain you want to climb on before starting out.
Courses are designed to teach basics to beginners and prepare them for the mountains.
The navigation experience is of utmost importance. Therefore, it's vital to learn how to use GPS, compass, map counters, triangulation, etc.
Always start local treks, which provide easy access to information and well-defined routes.
Final Thoughts
Going on mountain climbing is a fantastic way to connect with nature and reduce stress. Not only will climbing improve your mental health, but it will also strengthen your physical health. First, however, preparing yourself with suitable mountaineering gear is essential. Some basic appliances one must carry include outdoor stoves, GPS systems, proper clothing, headlamps, and more.
Aside from carrying essential equipment like headlamps, clothing, stoves, etc., you'll need a portable energy source. A reliable solar renewable energy source can help you charge appliances even if there are no electrical outlets available. Fortunately, Jackery Explorer 500 Portable Power Station is one of the ideal ways to power your appliances for long hours. It's lightweight and compact, making it suitable for all outdoor adventures.
---