The Ultimate Guide on Road Trips with Dog or Puppy
Summer is the time of long holidays, overseas vacations, and family road trips. It is the ideal time for anyone to travel together, hit the long road, and spend quality time with their loved ones. Going on a road trip also means you don't have to leave your pup behind because the airlines don't allow pets.
Although the idea of going on a road trip with your dog might seem simple, you must make lots of preparations to ensure that your trip goes smoothly and your dog enjoys it as much as you do. This post will guide you on how to prepare for memorable and fun road trips with dog puppies.
If you are planning summer road trips with dog and want to experience camping instead of staying at hotels, you will need a portable energy source. The Jackery Solar Generator 1000 is best for camping as it provides clean and stable electricity to power all your camping appliances. It charges using solar energy in less than 2 hours.
- 1002Wh to power up most of your outdoor appliances.

- Only takes 1 min to set up and provide endless green power wherever you are.

-  It is lightweight and comes with a foldable handle making it easier to carry anywhere and store it.   

-  It can last 1000 recharge cycles and offer a long stand-by of 1 year with 80% battery capacity.

-  Its pure sine wave inverter technology provides stable power for your equipment, making it the safest portable energy source.
Why Take Road Trips with Dog
If you want to experience the best road trip with dogs, you have to understand what it takes to travel with a canine companion and what logistical issues to consider. For dogs, a road trip is a time when they get to travel with their humans, contrary to their daily routine where their humans go to work, leaving them alone in the house. The destinations you have in mind are not important from your dog's perspective, as they are happy just being with you.
However, road trips with dogs require lots of planning and preparation. If you have a little puppy, you can gradually teach him to travel easily and stay calm during long road trips. The same applies to adult dogs. You have to ensure that your dog is always comfortable to stay in its carrier. For large dogs, you have to get your dog comfortable with doggy seat belts. Once you make ample preparations, you can enjoy the benefits of road trips with dog.
A road trip with your dog deepens your human-canine connection, especially when your dog is not with you for a long time. It also removes the pressure of checking airplane cargo safety and travel requirements.
When you go on a road trip with your canine buddy, you can travel with ease of mind and flexibility. Instead of going to your destination, you can enjoy the adventure, stop wherever you want, and visit all the exciting places that you come across during your journey.
Traveling with your best friend also helps you address anxiety and open your mind to happy thoughts and memories. It is also best for your dogs to go on road trips with you during vacations so that they won't get left behind with a dog sitter.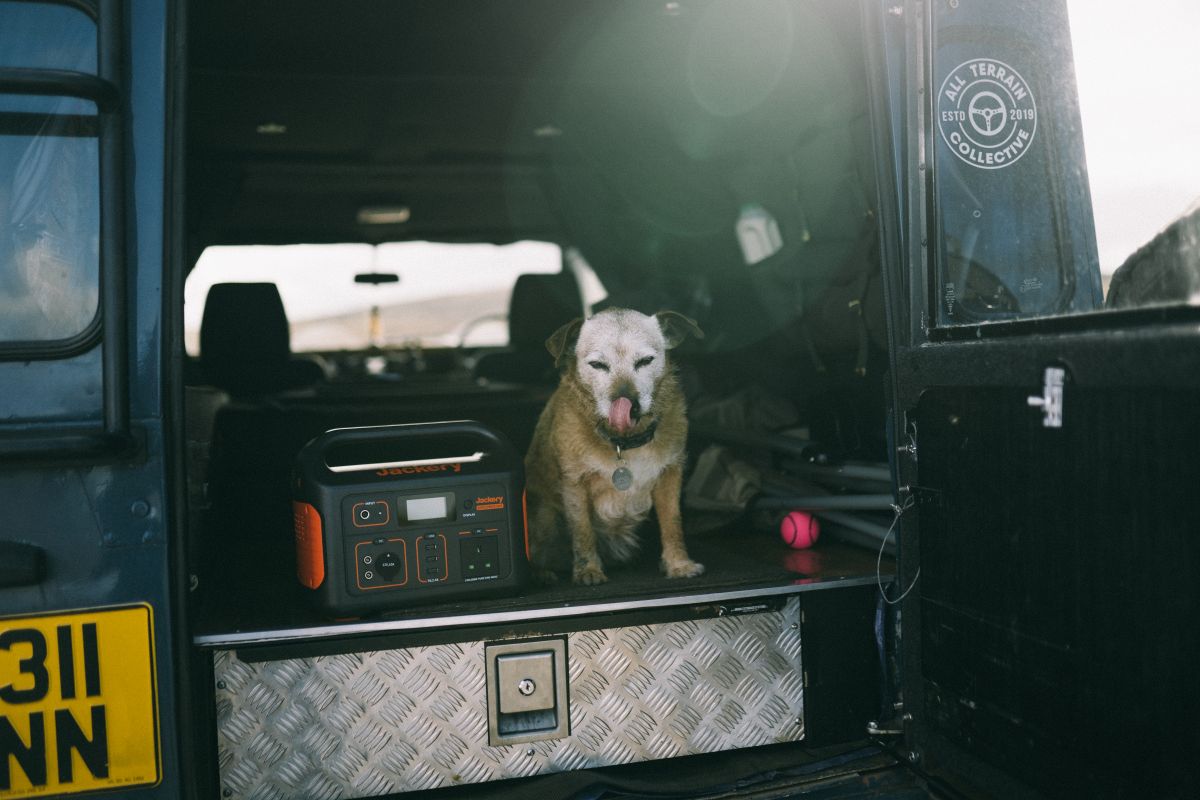 What to Pack for Road Trips with Dog
Many people wish to go on dog-friendly vacations, where they bring their canine pals on road trips and visit lots of exciting places. However, to get the best out of a road trip with your dog, you need to bring everything you and your dog need to be safe, healthy, and happy. Let's list the gear you want to pack for your road trips with your dog.
Road Trips Gear for Pet:
Pet Food –

 

If you are going on a road trip with your dog, the most important thing to pack is dog food. Road trips include driving long stretches of roads for hours without stopping. Having dog food with you will help you keep your dog calm and healthy.
Treats and Toys –You have to remember to prepare a treat pouch for your dog to keep him under control and make him behave. You can also bring bones for your dog to chew during the trip and toys to play with when you reach your destination.
Vaccination Info and First Aid Kit –On a long road trip with your dog, you will definitely be staying at hotels and campsites. Most of these places require up-to-date vaccination info for your dog to let him in. It is also wise to prepare a special first aid first for your dog in case he gets sick and medication for bites, allergies, and stings.
Bed and Leashes:For those who have space in their cars, bringing their dog's bed will not be a problem. However, if you have low space, you can prepare a small travel bed for your dog. You also need to get a six-foot-long leash to walk your dog when you go hiking and camping.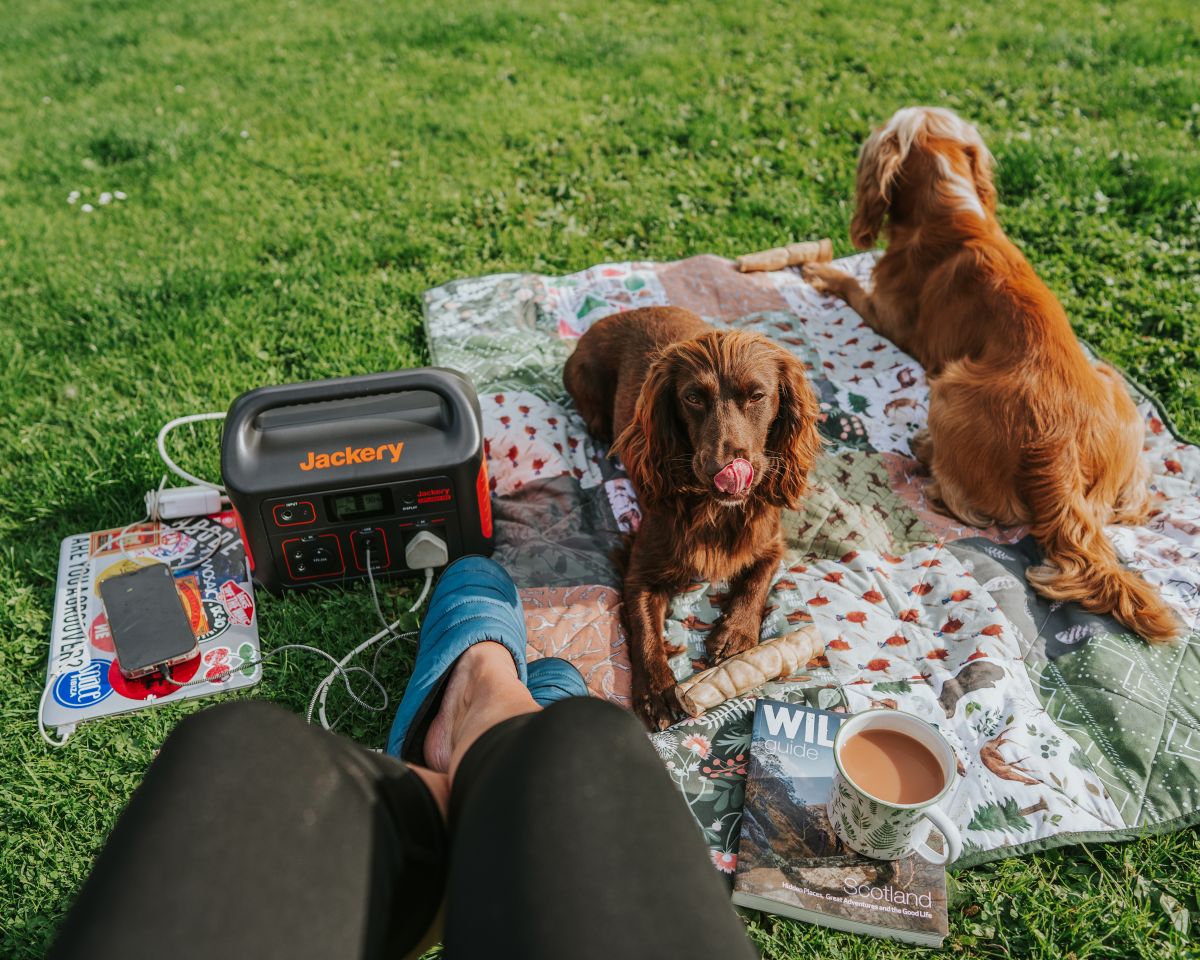 Road Trips Gear for People:
Safety Gear –

 

Safety is your biggest concern when you are out on a road trip. Make sure to pack an alarm system, jumper kit, spare gas container, a toolset and jack for your car, and a first aid kit.
Navigation and Tech –

 

You can always depend on your car's navigation, but to get an in-depth look at your surroundings, you need to pack a United States Atlas. Get handy as well, such as a phone mount, power bank, car charger, and digital camera.
Food and Drinks –

 

The one thing that most of us like to do during a road trip other than looking at the view is eating. For that, you need to prepare snacks, a picnic kit, a travel stove, and a 12-volt freezer.
Comfort Items and Entertainment –

 

Try to make your trip as comfy as possible by packing travel pillows and blankets, travel clothes washing kits, sandals, portable chairs, sleeping bags, and a tent. Also, bring a hammock, kayak, playing cards, and other games for entertainment for your

 

road trips with your dog.
Portable Energy Source –When you are camping, you need a portable energy source to power your outdoor appliances. The Jackery Solar Generator 1000 is the most efficient way to power your camp with clean, safe, and renewable energy. At the same time, being best for indoor and outdoor usage. It easily provides stable electricity to cover almost all your equipment.  
Series

Capacity

Ports

Appliances

1002Wh (43.2V 23.2Ah)

3*AC Output: 120V, 60Hz, 1000W (2000W Peak)

2*USB-A Output: Quick Charge 3.0, 18W Max
2*USB-C Output: 12V, 10A
1*Car Port: 120V, 60Hz, 15A Max


Refrigerator (520W): 1.6H
Coffee Maker (550W): 1.5H
CPAP (10W): 80 Charges
Laptop (65W): 9 Charges
Electric Blanket (55W): 14H
Electric Heater(350W): 2.5H
Where to Stay on Road Trips with Dog
If you own an RV or a Camper, you can go to campgrounds with your dog.
You can also look up campgrounds and camp with your dog inside a tent.
When you are planning your trip, book dog-friendly hotels to stay.
You can also rent a cabin or book a vacation rental to enjoy your travels.
Tips for Road Trips with Dog
Here are some expert tips for road trips with dogs.
Tire your dog out by taking him out on a walk or to the play before setting off on your road trip to make sure he does not have the energy to cause trouble.
Pack everything you and your dog will need for your road trip. Make sure to prepare a first aid kit for your dog as well.
Always go to dog-friendly hotels, and make sure to bring your dog's vaccination info.
Stop frequently to rest your body and mind, and let your dog stretch his body. It will also help you appreciate the beautiful scenery.
Don't forget to prepare safety measures, and bring healthy food to make sure you don't get sick during the trip.
Road Trips with Dog FAQs
What size of solar generator do I need for my road trips with a dog?
If you are going on a road trip with your dog and you are planning to camp outside, you need a portable energy source. The Jackery Solar Generators are the best way to get clean, free, and renewable energy when you are camping. Jackery solar generators convert solar energy into electricity and provide stable wattage to power your appliances. What size generator you need depends on your camp energy needs. Suppose you are using Jackery 1000 Solar Generator. You need to power a mini fridge, light, laptop, and coffee maker.
You can easily calculate the working hours as follows.
Number of supported hours = capacity x 0.85 / appliance watts
= 1002 x 0.85 / 60W (mini fridge)
= 14 hours
Are dogs OK on long road trips?
If your dog gets car sick, never take him on a long road trip. Most dogs are fine with going on road trips as long as their humans prepare everything. You need to come up with a list of the gear you and your dog require need on this trip. Then, you have to pack everything, such as safety items, first aid kits, toolbox, toys, and items for comfort. After that, you need to remember to book dog-friendly hotels for night stays and carry your dog's up-to-date vaccination information.  
Are there DOs and DO NOTs in road trips with a dog?
DOs:
Follow leash laws.
Book dog-friendly hotels.
Practices with small drives before setting off for your long road trip.
Try making frequent stops.
DO NOTs:
Make sure to let your dog loose in the car when you are driving.
Never leave your dog behind alone in a car during extreme weather conditions.
Final Thoughts
Let's conclude our guide on road trips with dogs here. Going on road trips with your dog deepens your connection with your canine best friend and helps you deal with stress and anxiety. It also helps you enjoy the natural beauty and opens up your mind. However, taking your dog on a road trip needs a lot of preparation. You have to prepare appropriate gear for your dog and yourself. You need to prepare first aid kits, comfort items, and lots of other accessories. One thing that you must need is a portable energy source. Lucky for you, Jackery got you covered. With Jackery Solar Generators, you can power your outdoor camping appliances with solar energy. It can power all your equipment and provide electricity for long hours.
---