Truck Camping 101: Gear, Methods, How to Setup
For truck camping, nothing surpasses an old-fashioned pickup truck when it comes to life on the road. Trucks are straightforward, accessible, and inexpensive. There are many reasons why a truck makes sense, but the most important is that truck camping facilitates access to off-road destinations.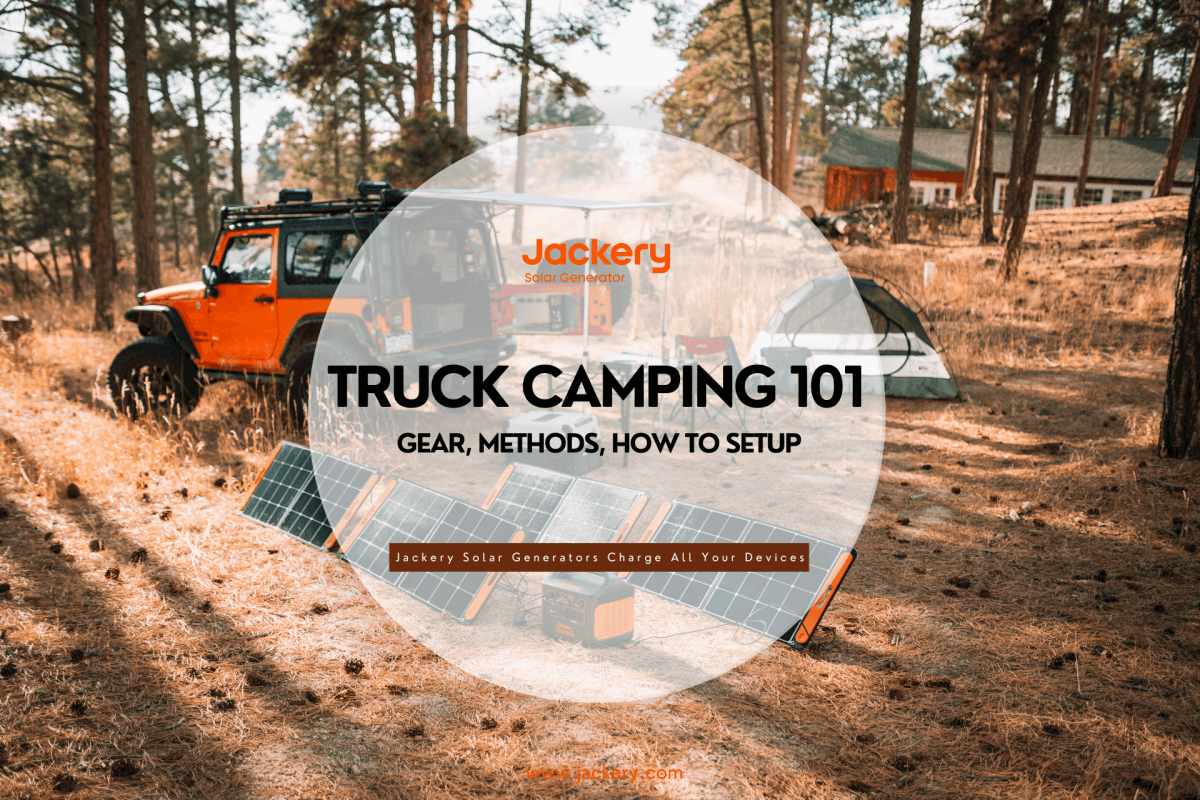 Truck camping is one of the most effective methods to enhance your adventures. However, for the most significant possible experience, you must perfect your truck camping setup. It can affect how well you sleep and how relaxed you feel at the end of the day.             
Trucks can take you to locations that no other mode of transportation can. This page discusses truck camping, its gear, methods, and how to setup. We recommend Jackery solar generators as your power companion during truck camping or any type of camping, precisely, the Solar Generator 1000 Pro, which has a 1002Wh capacity to charge most outdoor appliances. 
1002Wh capacity to power most camping appliances
Only 1.8 hours to fully recharge
2*USB-C, 2*100W PD, 2*USB-A, 1* carport, 3*1000W AC
With 1000 charge cycles of a longer lifespan
Lasts ten years for one full recharge/week
What is Truck Camping
Truck camping is transporting and sleeping in a vehicle while camping. Typically, it would be best to utilize a camper shell or rooftop shelter for protection and as a dwelling. In contrast to truck campers, which are wholly different habitats that slide into the truck bed, truck camping typically occurs directly in the truck bed.
This form of camping can be relatively comfortable and convenient, depending on the vehicle and setup. You only need a truck, a cap or tent, a mattress, and possibly some cargo organizers to get started.
Why Choose Truck Camping
The popularity of this form of camping has exploded among outdoor enthusiasts. Trucks with adequate equipment make it simpler to explore remote and inaccessible locations. Once there, you can rapidly set up camp and enjoy privacy and space that are difficult to find with conventional camping. In comparison to vehicle campers, costs can be relatively low.
Truck camping is an option if you already own a truck and are looking for a cost-effective method to satisfy your adventure cravings. You can create a space with everything you need to explore and make memories with careful planning.
Get to More Places: Several National Parks have road-use restrictions on larger vehicles, making it difficult or impossible to appreciate these beautiful areas.

 

Driving an RV in and around cities can be a living misery.
Free to Camp: Millions of acres of public lands are only accessible via roads that would be challenging or impossible for an RV or 5th wheel to traverse. It is possible to access these typically unoccupied and free campsites in a truck camper, particularly one with four-wheel drive.
Easy to Pack: One of the most significant aspects of RV and 5th Wheel travel was the amount of stuff you transported across the country simply because you had the space! You want to travel for adventure and camp for the experience of being in nature, not for the experience of being in nature with all your belongings.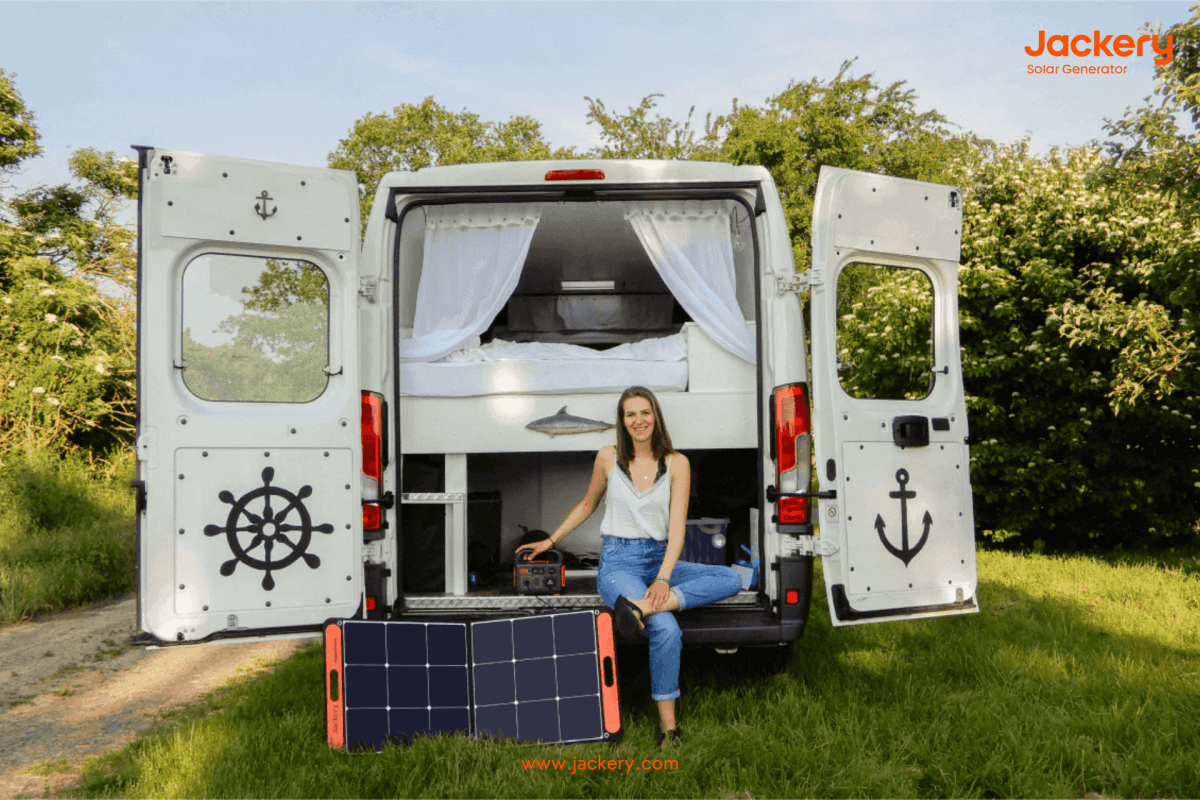 Truck Camping Gear & Essentials
A decent night's sleep is essential for truck camping, ensuring you are sufficiently rested for the next day's adventures. Before deciding on your truck camper construction, consider the gear you'll bring most frequently and design your camper accordingly.
However, a few must-have camping items will make your trip more comfortable, relaxing, and enjoyable.
Truck Camping Sleeping Gear
Getting a good night's rest is essential for a successful camping excursion. Getting sufficient rest is vital for preventing fatigue and illness and is beneficial for mental health.
If you have a decent mattress, bedding, and a couple of pillows, you will be much more likely to enjoy your trip instead of wishing to return home by the second day!                
Mattress: A camping mattress should be lightweight and straightforward to carry.  
Sleeping Bag: Place your water, snacks, and all other essential gear.
Truck Camping Tent: An alternative to sleeping outdoors or atop the vehicle.              
Groundsheet: To prevent dirt from entering the vehicle.      
Your truck can serve as a versatile and comfortable hunting base camp with the proper equipment and organization. You can travel to and stay in virtually any location by camping in your vehicle. You can save time and hassle by forgoing a tent and instead spending the night in the back of your truck.      
Truck Camping Power Gear
During truck camping, you will likely need the means to charge your cell phone, laptop, and GPS. Solar generators are the optimal option for truck camping, regardless of the excursion length. Solar generators convert sunlight into electricity without emitting emissions, allowing you to appreciate the tranquility and absence of offensive odors in your surroundings.  
A solar generator's ability to produce pure energy is one of its most alluring characteristics. It is ideal for camping in natural settings where using gas for cooking or power lighting harms the global and local environment.     
Since solar generators do not require fossil fuel, they are safe for camping in the forests. Unlike gas generators, they can be used safely to power lights and appliances inside a vehicle.
Jackery is the leading manufacturer of high-quality solar panels, generators, and power stations. Jackery Solar Generators should be your first choice for truck camping, as they combine solar panels and power stations that use clean, unlimited solar power.
With a capacity of 1002Wh and an AC input of up to 800W, the Solar Generator 1000 Pro can charge most of your vehicle camping appliances, including a fan, coffee maker, and more. It only needs 1.8 hours to fully charge via the wall outlet or solar panels (4*200W). The solar generator 1000 Pro has a foldable transport handle for portability. Save space for any travel on the go. In addition, its inventive, smart screen display provides crystal-clear viewing of 18 functional modes.
The pure sine wave inverter safeguards your equipment with stable power. This product has an incorporated battery management system (BMS) to monitor and protect battery life - the LED light with three modes of brightness aids to meet your outdoor needs.
Series

Capacity

Ports

Camping Electronics

Jackery Solar Generator 1000 Pro

1002Wh

3*AC Output:

 

120V, 60Hz, 1000W (2000W Peak)
2*USB-A Output:

 

Quick Charge 3.0, 18W Max
2*USB-C Output:

 

12V, 10A
1*Car Port:

 

120V, 60Hz, 15A Max

Light(5W) 170H 
GPS(50W) 17H
Phone(29W) 29H
Drone(60W) 14H
Coffee Maker(550W) 1.5H
Fan(45W) 17H
Mini Cooler(100W) 8.5H
Outdoor Grill(850W) 1H
Truck Camping Kitchen Gear
Kitchen setup is one of the best features of truck camping. The tailgate of a pickup truck serves as the ideal counter space, and your culinary camp kit can be as elaborate or simple as you desire.            
Camping Grill: Ensure you can cook outdoors.
Kitchenware: Gather the essential cooking implements from your home or purchase a set from a thrift store for your camp kitchen box.
Mini Cooler: Allows you to keep food chilly and fresh.                
Coffee Maker: Enables you to make high-quality coffee while camping.  
Rubbish Bin: Maintaining a clean camping area and vehicle.
Food: Provide nutrients for the maintenance and health of the organism.  
You need not spend a fortune on expensive cookware. After all, you undoubtedly won't be preparing nine-course meals in the wilderness! You should be ready if you have the essential cutlery and enough steak knives for everyone.   
Truck Camping Repair & Emergency Gear
Not only will a solid assortment of truck tools help you out if something goes awry, but it will also allow you to assist others in a similar predicament. The items in your truck kit must be exclusive to your vehicle.
Once you begin using these tools for other purposes, the likelihood that they will not be in the truck when you need them increases, which negates the purpose of having a truck kit in the first place.
Spare Tire: Standard-issue spare tires are not designed for daring individuals.
Emergency Kit: Everyone outside should carry an SOS button and a communication device in an emergency.
Truck Toolbox: Everyone has a distinct idea of what should be in a truck toolbox, but considering it and having your own goes a long way.
Fire Starter: The ability to start a fire is invaluable in the best and worst circumstances.
Check the detailed Truck Camping Gear Checklist PDF >>
The Types of Truck Camping
There are numerous methods to use your truck as shelter during a truck camping excursion.
You could transform your vehicle bed into a cozy and comfortable place to sleep for a night or two by adding a few essential items. Here are some suggestions for things that will transform any truck into a five-star wilderness accommodation:
Truck

 

Bed Camping: Truck bed tents are a less expensive option but have advantages. A truck bed shelter is the next best option if you want to avoid investing in a camper shell or would rather have a less permanent solution.
One of the primary benefits of a truck bed tent is that it enables you to convert your truck into a camping-friendly vehicle without requiring expensive and permanent modifications.
Truck Canopy Camping: A truck canopy is the quickest method to convert a truck into an overnight shelter. It is also the most durable and resilient option, shielding you from moderately severe weather conditions. The advantage of using a camper shell for truck camping is that it can be regarded as a semi-permanent addition to your vehicle.
Truck

 

Ground Tent: Contrary to popular belief, a ground tent can be used as shelter in a

 

truck bed camping

 

Consider the tailgate and tonneau as a shelf or second level for storing camping equipment, food supplies, and kitchenware.
How to Setup The Truck Camping
RV and truck camping is often quite different despite their superficial similarities. Most vans are not constructed to withstand the abuse your vehicle may endure, nor do they account for the unique spatial challenges of living in a truck.
While all forms of living in a vehicle necessitate a reduction in material possessions and the adoption of a more minimalist lifestyle, truck camping is by far the most minimalist.    
How to Setup the Truck Bed Camping
Truck bed tent camping brings outdoor sleeping and secure camping conditions to new heights! It is a fantastic way to transport your pickup truck off-road and off-grid without spending thousands of dollars on elaborate overlanding setups or an expensive truck camper.
Truck bed camping allows you to camp in your truck without ascending ladders, making you safer and more comfortable in the wilderness. And camping in the wilderness with truck bed tents won't cost you an arm, a limb, or your back!
Pickup trucks have three standard bed lengths: extended, short, and compact. Full-size pickup trucks are cargo-hauling vehicles with truck beds of adequate capacity. Compact pickup vehicles provide the same advantages as full-size pickup trucks but with a smaller truck bed. Due to their adaptability and maneuverability due to their diminutive size, these vehicles are regaining popularity.
Wheel wells and additional hard-mounted truck bed accessories must be considered, such as an auxiliary gasoline tank or truck bed toolbox. Include the measurements for these accessories accordingly.
How to Setup the Truck Canopy Camping
Your canopy in your truck seems more vital than your truck. Your canopy determines the space you have, where you can go, and how toasty and dry you will be.
Truck canopies are designed for a variety of purposes and come in a variety of sizes and shapes. Some are constructed for primary storage, while others are more useful.
Fiberglass and aluminum are the two primary components used to construct vehicle canopies. Typically, fiberglass casings are more form-fitting. They are more aerodynamic and reduce wind resistance, improving petroleum mileage. On the other hand, aluminum canopies may not be as streamlined, but they are more accessible and simpler to work with if you plan to modify your design.  
Tips for Truck Camping
Here are some tips to help you have a better truck camping experience and avoid adverse circumstances.    
Sleep in The Truck Bed: If you slumber in the truck bed, position your head toward the tailgate. The rear of almost all pickup vehicles is slightly higher than the front, and pointing your head toward the engine will cause your blood to rush to your head.   
Extra Clothes: It is always an excellent notion to bring extra clothing. If the weather changes and becomes colder, you can add additional layers of clothing to keep toasty. If it rains, dry clothing is always appreciated.   
Extra Water: Always carry additional water. The general recommendation is one gallon per person per day. When camping, potable, pure water is an absolute necessity. If you plan to remain longer than two days, more than a few disposable jugs will be required.
Truck Camping FAQs
The following shows the frequently asked questions about truck camping:
1.
Is truck camping legal?
Like many other camping styles, truck camping is permitted in many locations. One of the benefits of truck camping is the ability to position your vehicle virtually anywhere to rest.
However, specific locations prohibit prolonged camping and vehicle sleeping. Verifying its rules and regulations is essential before becoming too accustomed to a site.
2.
What size of solar generator do I need for truck camping?
A solar generator is significantly more critical when truck camping because it allows you to power your camping appliances with renewable energy and is a backup power source during your excursion. Jackery solar generators are the best option due to their durability, portability, and safety.
Determine the power required for your truck camping, then choose the appropriate size solar generator. The Jackery's solar generators range in capacity from 3024Wh to 240Wh. You may select one according to your needs. Here is the formula for calculating how long it will take to charge your camping devices using the solar generator at Jackery:
Working time = solar generator capacity*0.85 / your device's operating wattage
For example, if you charge a 100W mini cooler for camping with a Jackery Solar Generator 1000 Pro (1002Wh capacity), the mini cooler will operate for 8.5 hours (1002Wh*0.85/100W).
3.
Is truck camping expensive?
Truck camping is typically less expensive than other forms of RV camping because it requires only a pickup vehicle, a truck bed camping setup, and camping equipment. Because of this, it is a more cost-effective solution for people who wish to enjoy the outdoors without breaking the budget.
Final Thoughts
Truck camping is a fantastic way to travel and explore on a budget, whether you want to spend a weekend exploring with your family or take a year-long trip down the American Highway. This article describes truck camping, its equipment, and how to set up for truck camping. Please don't neglect to bring a Jackery solar generator on your camping trip, as it is user-friendly, environmentally friendly, and portable.             
---