Ultimate Guide to Camping with A Baby [Checklist PDF]
Are you camping with a baby? Hmm, is it fun, or will it be a disaster? Well, it depends on how well-prepared you are and whether you have the best gear. It is always a great experience to explore the wonders of the outdoors and nature with a baby, and it makes cherishable memories. However, it is essential to understand that your needs and requirements change with the baby's age; however, the general guidelines remain the same. One example of a general condition is always to have a portable solar generator like Jackery solar generator 1000 that provides enough power to run equipment to facilitate the baby. Read on to learn more about camping with a baby and the requirements.
 

1. 1002Wh capacity to power fishing equipment.

2. Enough capacity to run bottle sterilizer, bottle warmer, and other baby equipment.

3. Portable and easy to carry.

4. Noise-free and no fumes hence safe and disturbance free.

5. Multiple ports to support various devices simultaneously. 
Why Camping With A Baby
You will be asked this question many times. You will ask yourself, your family, and your friends why you are camping with a baby. First of all, it is always refreshing and healthy to spend time in fresh air, even for babies. We all know mothers tend to get into postpartum depression, and camping with babies helps them stay calm and enjoy their time. It is always good to know that you can continue your activities even after the baby.
Rest assured that it is a completely safe and enjoyable experience in the camp and the related activities. Follow this guide to prepare well before you leave your excursion and make the necessary arrangements.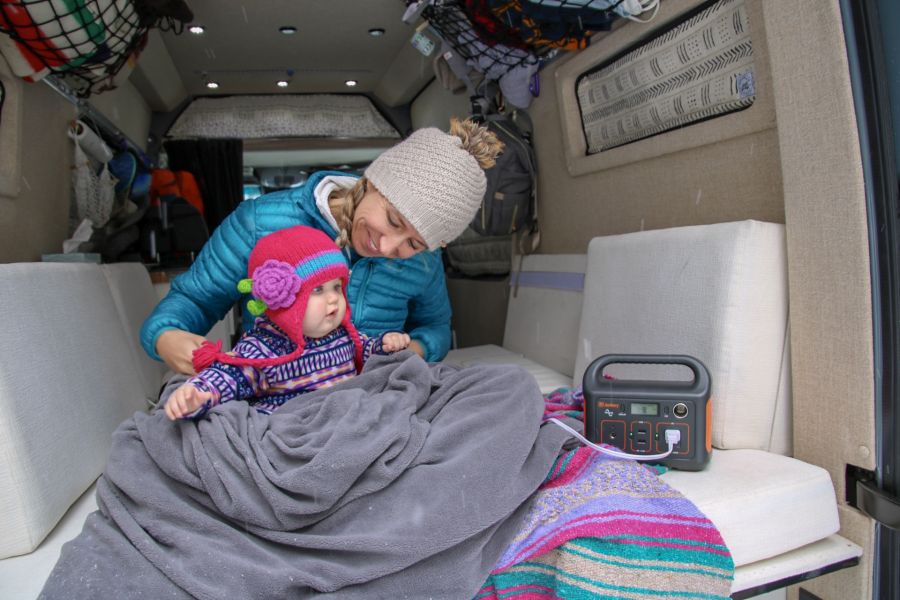 Top Considerations for Camping With A Baby
The most important decision to make regarding camping with a baby is the destination or camping point you are heading to. Then comes the basic amenities, food, tent, and clothing for you and your baby.
The basic guidelines are summarized as follows.
Choose a location near your home with amenities like a washroom, water, parking, etc.
Invest in a spacious tent where you can rest, place a crib for your baby, and spend some time calming your baby.
Arrange simple yet hygienic milk and baby food according to your baby's age. Do not expect to cook multi-ingredient meals.
Pack for changing weather. Dressing the baby in layers is the best strategy.
Protect yourself and your baby from bugs and harsh sun.
What Age Can Begin Camp  
The good news is that you can go camping with your baby any age. However, the requirements and challenges change with every stage.
1-3 Months: Baby is sleeping most of the time, but parents may be sleep deprived, and the routine might be challenging.
4-6 Months: Baby can still be confined in a playpen while parents are adjusted to the routine.
6-9 Months: Baby is responding and showing her feelings, but solid food has just started, so there might be some complications.
9-12 Months: Set a routine for the baby, but she has started moving on herself, so restricting her might be challenging.
Where to Go Camping With A Baby  
The best advice for new parents is to camp close to their homes so they can return if things do not go according to plan. Also, it is convenient to manage when the weather remains the same as their home as they know how to keep the baby dressed, etc.
A settled campsite is also a good choice as better ones offer bathrooms, electricity, activities, showers, and swimming pools. So, it is a good balance between natural experience and essential comfort.
Also, consider a campsite where there is considerable distance between camps. So if your baby keeps waking up and making noise, it doesn't disturb fellow campers.
What to Prepare for Camping With A Baby
Let us divide the preparation list into two phases—the things to do before camping with a baby and the packing list for the camping trip.
The Things To Do Before Going Camping
Talk to your baby's doctor before heading out on the trip.
Choose the most suitable and facilitated camping location.
Book your space beforehand.
Meal Planning For Your Baby
Keeping clean is the priority for a baby, especially if you are bottle feeding. Make it a priority to bring boiled water, sanitize bottles, and manage water temperature and formula.
When your baby starts solid foods, bringing squeeze packets with pureed food like fruits and vegetables is always easier. They are less messy and easy to carry and store, especially if they do not require refrigeration.
Puffs, cheerios, bananas, and small chunks of fruits are also great options.
If breastfeeding or pumping, taking care of your diet and hydration is equally important. Also, your pump's cleaning and sanitization are similarly necessary.
Flexibility
Make up your mind that planning and experiences with a baby can go in any direction. But whatever may happen, if you and your baby are safe and calm, there is always a second time. If you are exhausted, your baby doesn't sleep the whole night, or you are drained by concern and worry, call off your further plans.
Camping with A Baby Gear
After the prerequisites, now is the time to complete a checklist of everything you might need on your camping with a baby trip. You can categorize your packing list into three portions, i.e., baby camping gear, camping gear, and baby essentials.
Baby Camping Gear
A Baby Carrier or Hiking Backpack
Baby Camping Chair
Travel Bottle Rack
Travel Crib or Bassinet
Baby Jumper
Swaddlers or Wearable Blankets
Stroller
Bug Protection
Sunblock
Portable Breast Pump
Bottle Warmer
Snotsucker
Baby ointment
Toiletries
Camping Gear  
Water
A large blanket to use on the ground.
Camping mats or inflatable camping mattresses
Lighting arrangement for tent and outdoors.
Stove or hot plate for warming water and making small meals.
Umbrella
Tent
A solar power generator to power your sterilizer, lights, warmer, hotplate, and other essential equipment. Following is an overview of the Jackery solar generator 1000 and 500, the best choices for powering up your camping with a baby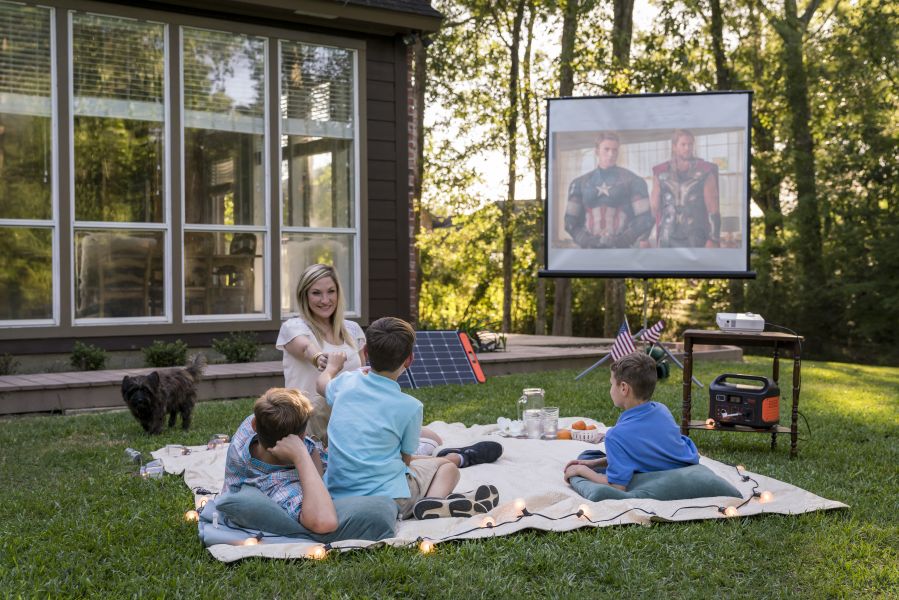 Series

Capacity

Ports

Recharge Time

Camping Appliances

1002Wh

AC Output: 110VAC, 60Hz, 1000W (2000W Surge)

USB-A Output: 5V, 2.4A

Quick Charge 3.0 Output: 5-6.5V, 3A / 6.5-9V, 3A / 9-12V, 1.5A

USB-C Output: 5V, 9V, 12V up to 3A

Car Output: 12V, 10A

DC Input: 12V-30V (200W Max)

AC Adapter: 7 Hours

12V Car Adaptor: 14 Hours

Two SolarSaga 100W Solar Panels: 8 Hours

Light(5W)

Cooler(21W)

Phone(29W)

Bottle Warmer(300W)

Mini Fridge(60W)

Bottle Sterilizer(600W)

Fan(700W)

Coffee Maker(1000W)

Outdoor Grill(1000W)

Electric Grill(900W)

Mini Fridge(60W)

518 Wh

AC Output: 110VAC, 60Hz, 500W (1000W Surge)

USB-A Output: 5V, 2.4A

Car Output:12V, 10A

DC Output: 12V, 7A

AC Adapter: 7.5 Hours

12V Car Adaptor: 7.5 Hours

SolarSaga 100W Solar Panel: 9.5 Hours

Light(5W)

Cooler(21W)

Phone(29W)

Bottle Warmer(300W)
Baby Essentials
Easy diaper change kit, including diapers, wipes, and hand sanitizer
Sun hat
Clothing includes multiple layers according to the weather.
Swimming diapers, life jackets, etc.
A rope for hanging washing
Socks/booties
Disposal diaper bags
Diaper cream
Hand sanitizer
Portable bathtub
Small first aid kit with bandages, Tylenol,
Baby food
water
Formula if your baby is formula fed.
Breast pump and accessories
Download the 
PDF for Camping with Baby Checklist
Camping with Baby Tips
After the packing list, we now have expert tips to make camping with a baby comfortable, safe, and pleasant.
Sleeping with A Baby Tips
While camping with the baby, the best advice is to relax and be flexible. This holds for sleeping as well. Your baby's sleep routine is expected to be disturbed; you might need to nurse more frequently, have to cradle the baby, etc. She may also wake up late.
Invest in a giant tent. Extra space will help you to stretch out and relax. You can also have more baby stuff inside to keep her comfortable and in a familiar environment.
Bring a portable crib/play yard, primarily if your baby is used to sleeping in it. Apart from sleep time, you may use it to restrict her movement when you are busy.
Bring familiar and favorite items related to your baby's sleep time, like a sleep buddy, blanket, stuffed toy, etc.
Food for A Baby Tips
Prepare less messy meals like squeezable purees, small fruit chunks, baby food jars, etc. The idea is to have more no-cook meals that do not need refrigeration until opened and require fewer utensils.
Keep everything clean and manage to avoid any sickness.
Keep clean water with you and some arrangements to warm it.
Invest in healthy and hydrating food for yourself too.
Dressing for A Baby Tips
Dress your baby in layers according to the weather. For winter, the rule is to dress her in one more layer than the number of layers you wear. Generally, the first layer is the base layer, the middle layer adds warmth, and the top layer protects against rain and wind. In summer, add clothing for swimming and sun time too.
In summer, plan for sun time, mostly covered yet breathable to protect from sun and heat.
In the rainy season, invest in a shell jacket, raincoat, etc.
In winter, you will need mostly wool and synthetic materials: wool socks, fleece pants, jackets, insulated jackets, and caps.
Avoid overdressing or underdressing.
Follow your general diaper routine but keep swimming diapers too. 
Protection for Baby Tips
Try to bring more physical protection than chemicals. For example, hats and shades are better than using more sunscreen. Also, check with your doctor about which sunscreen is safe for babies.
Similarly, use bug sprays sparingly and try to cover your child without making her too hot or cold. In summer, hats and long sleeve shirts in breathable fabric are better.
Head nets, bug-repellent bracelets, and setting up screens for avoiding bugs are also effective. Citronella is effective natural bug repellent, so its candles or bracelets are good options.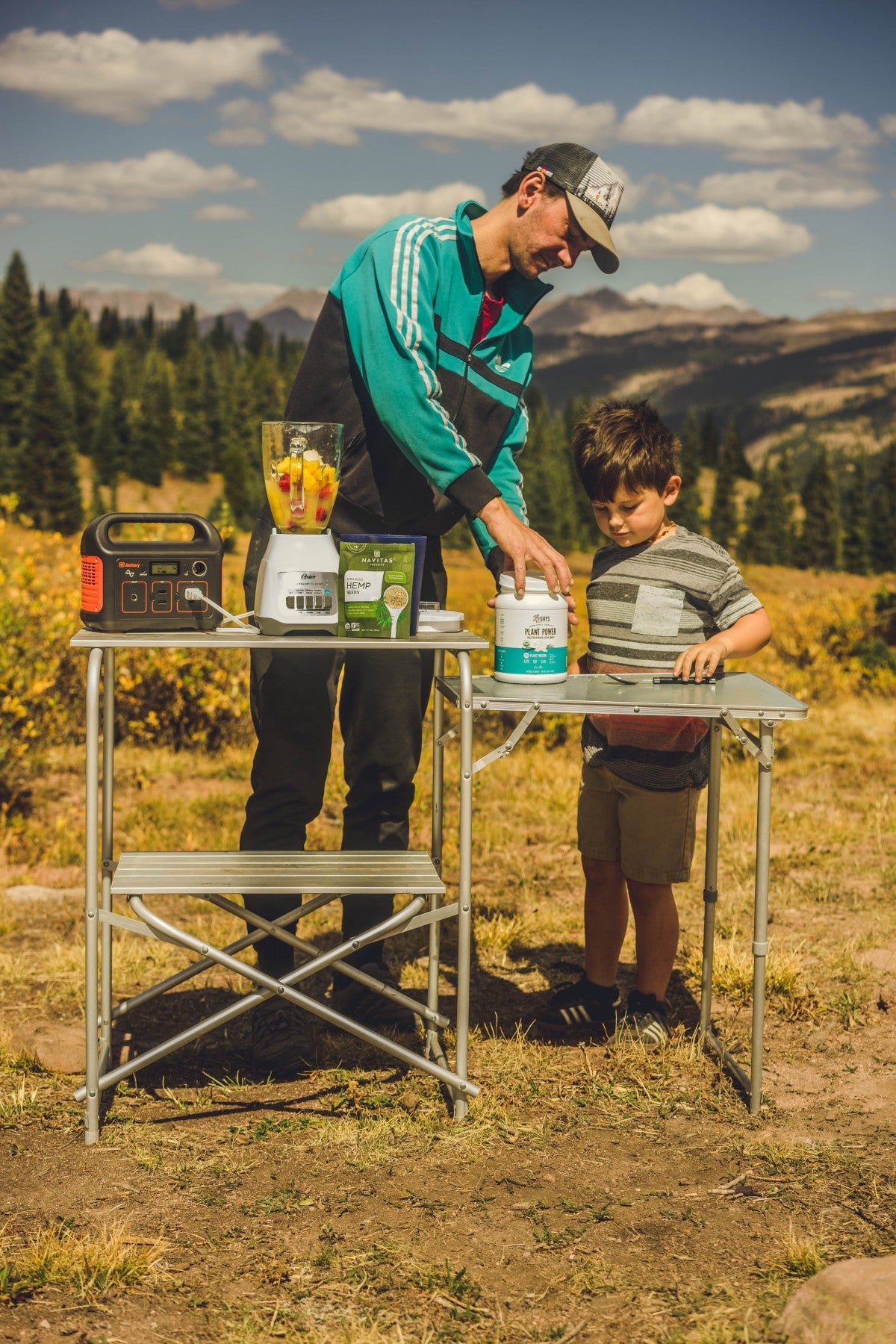 Camping with A Baby FAQs
1.
 

What size of solar generator do I need for camping with a baby?

You will need some essential equipment to make your camping with a baby trip comfortable. It includes a bottle warmer, sterilizer, hot plate, lights, phone charger, etc. The Jackery solar generator 500 and the Jacker solar generator 1000 are the most recommended generators to power your essential equipment. Let us see how you can estimate the working hours of your appliances on a solar generator.

How to calculate the hours:

Working time = Capacity Wh * 0.85 / operating wattage of your device

For example, assuming the power consumption of your bottle warmer is 300 Watts.

The Jackery Solar Generator 500 working time will be 518Wh * 0.85 / 300W = 1.46 hrs. These estimates are realistic because we calculate the working hours with 85% efficiency. A 15%  loss of efficiency is expected because of transmission etc.
2.
 

Is it safe to camp with a baby?

You can go camping with a baby, and it is entirely safe. However, it is vital to make proper preparation and planning to make the trip comfortable, secure, and enjoyable.
3.
 

What is the best age to take a baby camping?

There is no hard and fast rule, depending on your baby's readiness and acceptability. 2-3 months is a good age as the routine is somewhat set, there is some predictability, and you know your baby's preferences
Final Thoughts
Camping is a rich experience with a connection with nature, family time, and a break from a monotonous life routine. Camping with a baby is also enjoyable though it takes detailed planning and management. We have discussed the best tips for dressing, feeding, sleeping, and protecting your baby on the trip. Happy camping!
---