Kayak Camping 101: Gear, Tips, and Destinations
Kayak camping is a popular adventure trip that involves backpacking and kayaking. This sounds simple, but this fun adventure trip has so much more for everyone, and we are sure you will cherish every moment when you return from kayak camping. You can experience open water, challenges, adventure, wilderness, and camping in one trip. In kayak camping, you can reach the farthest and the most remote places you have never been before and cannot be accessed by ground. Camping in unexplored areas connects you with raw nature and gives you a much-needed break from routine.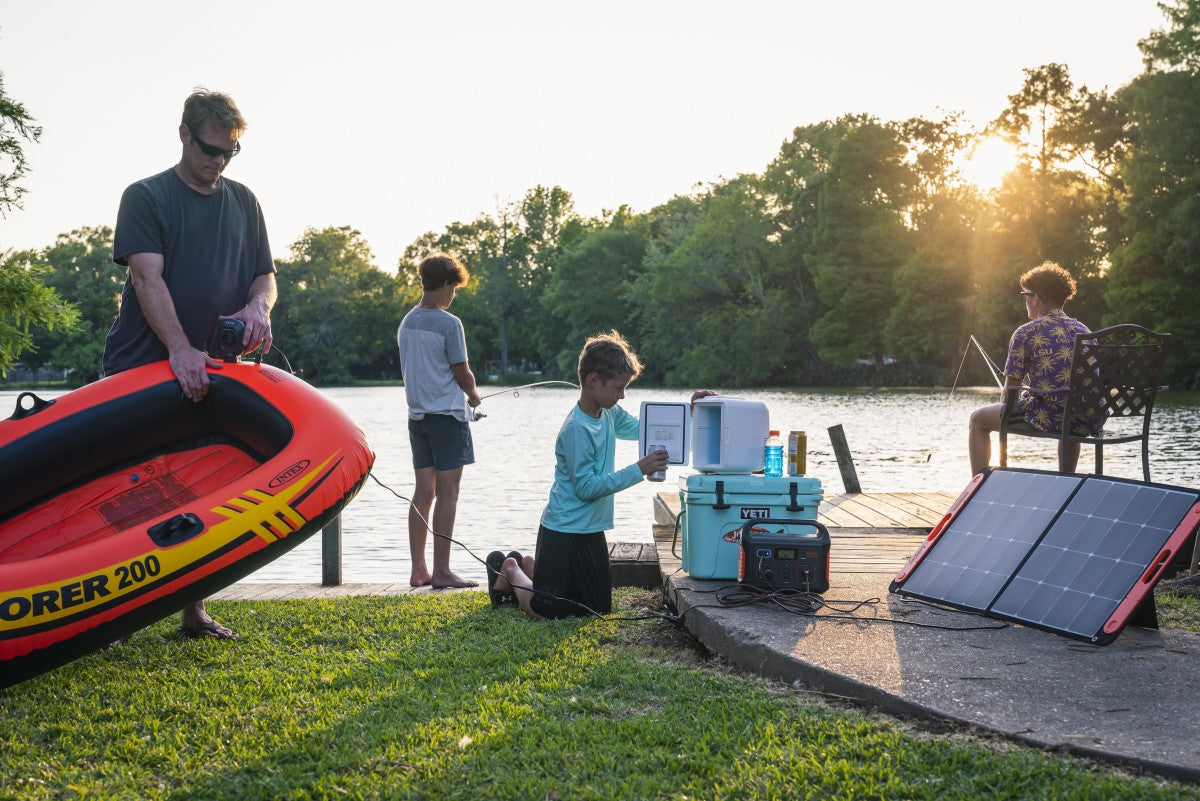 It would be best to have very little luggage, including your kayak, accessories, clothes, kitchen stuff, and safety equipment. The most critical safety equipment you need is GPS, satellite, cartographers, plotter, and VHF radio to help you navigate. Also, it would be best to have a portable solar generator to charge your safety devices.
What is

 

Kayak Camping
Kayak camping is an adventure and sport activity, and you travel by water for several days using the kayak as your transportation source. You travel by kayak, sleep in campsites on land and enjoy yourself. It is a physical challenge that simulates and invigorates you while exploring nature since you have everything in your kayak so you won't have to carry everything around.
Let us look at the benefits of Kayak camping and see why you should choose it for your next adventure trip.
Kayak campingis unique because you can reach remote places which are not accessible by foot or by road.
It helps you release stress and brings you peace because you can explore places for the first time.
It offers you enough challenge and adventure to break the monotonous life routine.
It has something for everyone in the family.
What to Pack for

 

Kayak Camping
Kayak camping gear is easier to pack because you have more space in your camping kayak than in the backpack, and you do not have to carry everything alone. However, there are still challenges because traveling by water has its challenges. You will need to keep some stuff dry to be usable. Also, it is essential to keep an eye on the weight.
1.
 

Kayak camping accessories
Extra paddle
Sleeping pad and pillow
Waterproof headlamp
Camp chair
Spray skirt
2.
 

Kayak camping essential gear.
Sleeping bag
Dry bags in different sizes. A large bag and a few in medium and small sizes are a good number.
Sunblock, hats, swimsuit, dry suit or wet suit
Any fishing gear you require.
Multi-purpose tent
Repair kit
3.
 

Kayak camping clothes
Weather-appropriate clothing, including rain gear, warm clothes, etc.
Appropriate footwear depending on your plan. If you plan hiking, keep a pair of hiking boots in a dry bag.
Kayak gloves
Waterproof duffel
Swimwear
Raincoat
4.
 

Kayak camping kitchen gear
Food including both fresh and tin-packed.
Cookware including basecamp stove and fuel.
Drinking Water.
Water filter
Can opener
Collapsible sink
Mug, bowl, and utensils
Water bottle
Trash bags
Dish kit
Firestarter/lighter/matchstick
5.
 

Kayak camping safety & toiletries gear
Personal hygiene items(soap, toothbrush, toothpaste, shampoo)
Lip balm
Bug spray
Flashlight
Pocketknife
First aid kit
Personal flotation device (PFD)
Navigation devices, including GPS, maps, compass
Whistle
Two-way radios
Cable lock and anti-theft mesh
Power Backup For Charging
The basic safety equipment you need to navigate and connect with the outside world needs charging. Hence it is essential to keep a power source that supports your devices. Power banks and small backups will only last for a while, especially when you have multiple devices. Therefore, the best option is to keep a portable and lightweight solar power generator with you in the kayak. The Jackery Explorer 300 is the best recommendation as it is compact, weighs less, and can easily support your gadgets. It is also handy because you do not have to keep extra fuel with it, and it charges itself with solar power.
How to Choose a Kayak
Kayaks are available in many shapes and sizes, so you must make an informed choice about the perfect option. Your wrong decision can affect your enjoyment and your safety both. The right decision about camping kayak starts with defining how you use the kayak and where you are heading.
So you need to ask yourself;
Whether you will be paddling in small ponds or lakes? Or if you are going to kayak campingin open waters where wind and waves are expected?
Are you looking for a protected option of a traditional sit-in, or do you want to enjoy the openness of a sit-on-top?
Your budget and camping kayak weight.
Shape and size of your kayak.
Camping Kayak Category

Features

Recreational kayaks (sit-ins and sit-on-tops)

1. Stable yet affordable.

2. Easy to turn, sit in and get out.

3. Best for small water bodies but not for longer trips.

4. Limited storage.

Day touring kayaks (sit-ins)

1. Sleek and efficient.

2. Give more control.

3. Suitable for rough waters.

4. Medium-size storage. 

Touring kayaks (sit-in sea kayaks):

1. Efficient in large water bodies for long distances.

2. Stable even in wind and waves.

3. Ample storage.
Camping Kayak Materials

Features

Polyethylene plastic

 

1. Abrasion-resistant

2. Heavy

3. Degrades in the sun's UV rays.

4. Least expensive

ABS plastic

1. More costly than polyethylene.

2. Less heavy.

3. Some UV resistance.

Composites

1. They are made of lightweight fiberglass and ultralight carbon-fiber boats.

2. High performance.

3. UV resistant.
How to Choose a Place for

 
Kayak Camping
For beginners, it is advisable to pick a place near your home.
Choose a destination that is well-traveled, and you can find enough reviews.
Always check the weather and prefer smooth and calm waters.
If you expect changing winds and weather, then choose a guided kayak campingtrip or tag along with an experienced camper.
a Place That's Not Too Far From Home.
Kayak Camping Tips
Go for a short and straightforward kayak camping trip to get some experience initially, and then after a few trips, you can be more adventurous.
Stay close to your home for your initial overnight kayak camping
Choose a well-traveled route and check reviews. You can choose parks and established camping destinations instead of open waters.
Keep Your Kayaking Trip Short and Simple
If you're a beginner kayaker on your first overnight kayaking trip, staying relatively close to home is best not to venture too far out into the wilderness.
Keep an eye on weather updates and forecasts. Always make it a point to check the weather on the morning of the trip to be sure.
Learn basic safety and first-aid skills.
Keep your medicines with you if you regularly take some medications.
Keep a check on food and clothing. Aim for enough but too much or too less.
Dehydrating your food will make it last longer and easy to carry because of less weight.
Kayak Camping FAQs
1.
 

What size of solar generator do I need for my kayak camping?

On a Kayak camping trip, the essential chargeable devices are your navigation devices, radios, mobile phones or laptops, and lights. The Jackery solar generator 300, with only 7.1 lbs of weight, is an ideal choice for your kayak camping trip. It offers 293 Wh capacity, which is optimum for your essential devices and lighting during camping.

You can estimate the size of the required solar generator by adding up the power requirements of all your devices and then comparing it with the generator power output.

How to calculate the hours:

Working time = Capacity Wh * 0.85 / operating wattage of your device

Suppose the power requirement for your kayak camping trip is 100 watts.

A Jackery solar generator 300's Working time will be 293Wh * 0.85 / 100w = 2.4 hrs.

We multiply the capacity by 0.85 because of the power loss in running the equipment. We use a 15% power loss estimation for the most realistic estimates.
2.
 

Is kayak camping safe?

Yes, taking all the precautions and planning your trip right is safe. We have shared some tips for your convenience above. Going with experienced people and using a maintained kayak camping site is always advisable. Once you get experience, then you can experience more places and go adventurous. Also, always wear a lifejacket, even in still water, dress for being wet, keep your safety gear with you and keep your safety and communication gadgets dry and working. To keep yourself safe, a portable solar generator like Jackery solar generator 300 must be available for charging your devices, including phones, GPS, navigation equipment, etc..
3.
 

Is it possible to sleep in a kayak?

Most of the time, it is not ok to sleep in a kayak because it is not designed for that purpose. Using a tent with appropriate safety and weather resistance is the best course for sleeping on a kayak camping trip.
Final Thoughts
Kayak camping is a great adventure that helps to connect with nature; however, keeping yourself safe must be your priority. It is always essential to maintain a balanced packing list and follow it, check your safety gear, and keep your maps and navigation equipment ready. A portable and lightweight solar generator like Jackery solar generator 300 is necessary for a safe kayak camping trip. With a 293 Wh capacity and multiple ports, this compact and lightweight power station can charge your mobile phone, laptop, and navigation devices and power your lights.
---