Unleash the Power of Solar Generators for Camping and RV Adventures
As the crisp autumn air sets in, there's nothing quite like a stroll through fallen leaves to rejuvenate the soul. Camping is the ultimate retreat for those seeking an escape from the hustle and bustle of city life. Proper preparation is key when you embark on solo adventures or gather your friends for a caravan getaway. Enter outdoor power equipment, a vital companion for your outdoor excursions.
If you're searching for top-notch products at unbeatable prices, look no further than Jackery's Prime Big Deal Days. We offer extreme surprising bonuses and services, including price gurarantees, limited gifts, 0% APR plans, and extended warranties. Besides, you can get 2 points for every dollar you spend during the sale, which can then be used to redeem gift cards, coupons, and products. With a diverse product range, Jackery caters to a multitude of needs. So, you can elevate your camping experience by brewing a hot cup of coffee on a chilly evening or keep your rechargeable camera ready to capture those unforgettable moments.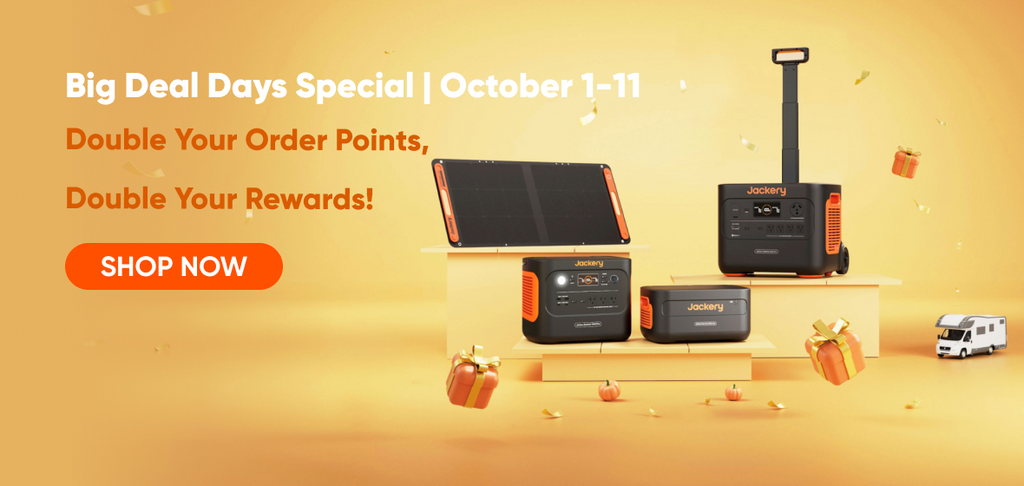 Our extensive product lineup is all eligible for Prime Big Deal Days. No matter your choice, these versatile devices find applications in various settings.
In essence, Jackery offers solutions suited for every off-grid lifestyle, ensuring you're well-equipped for your outdoor adventures. Discover the freedom of untethered exploration with Jackery's Prime Big Deal Days.
Where Can Jackery Power Station Be Applied
Van Life
Embrace the Van Life lifestyle, a recent fascination for many, with all your power needs met effortlessly. Among the essential requirements, powering your van takes the top spot, and Jackery has you covered with irresistible Prime Big Deal Days. Introducing the Jackery 1000 Portable Power Station, your ideal companion for life on the road.
This compact powerhouse is designed with convenience in mind. Its small footprint makes it easily portable, allowing you to take it wherever your van life adventures lead you. Surprisingly minimalist for a solar station, it won't hog valuable space in your vehicle.
Delving into its technical prowess, the Jackery 1000 Portable Power Station boasts a formidable 1002Wh capacity and impressive 1000W output capabilities. Charging this versatile device is a breeze, with three different methods at your disposal. What sets it apart is its ability to power up to 8 devices simultaneously, making it perfect for multi-device van setups.
Now, let's talk about runtime, a crucial consideration for life on the road:
A 300W Blender: 2.5 hours
A 350W Space Heater: 2.5 hours
A 700W Ice Shaver: 1.2 hours
A 550W Coffee Maker: 1.5 hours
An 850W Kettle: 1 hour
It's important to note that these figures are based on the power consumption of the respective devices. In other words, if your toaster consumes less than 650W, it will use less power. In Jackery Prime Fall, you have the opportunity to cater to your specific power needs, ensuring your van life experience is comfortable and convenient. Take advantage of the chance to enhance your journey with Jackery's reliable power solutions.
RV trips
Are you gearing up for exciting RV trips? If you're planning short-term adventures, your power needs may be modest. In such cases, we recommend the Jackery Solar Generator 1000 Pro, a solar power supplier set containing the Jackery Explorer 1000 Pro Portable Power Station and 2 SolarSaga 80 solar panels, an ideal companion for your RV escapades. And guess what? You can seize this fantastic power solution at exceptional Prime Big Deal Days.
Jackery Solar Generator 1000 Pro fits seamlessly into your RV setup. With a 1000W inverter and a 1002Wh capacity, it provides ample power to keep your devices running smoothly. Charging up is a breeze, taking just 1.8 hours to ensure you're ready to roll.
What sets this model apart is its impressively quiet operation, perfect for maintaining a peaceful ambiance during your RV journey. It's also waterproof, a valuable feature when unpredictable Canadian weather strikes. Rain or shine, you can count on it.
Trailer/Camping
Although the electricity requirements for camping seem low, they are quite high. In this regard, Jackery offers suitable opportunities to meet the needs, like Jackery Solar Generator 2000 Pro and Jackery Solar Generator 3000 Pro.
Jackery Solar Generator 2000 Pro 
With a capacity of 2160Wh, this powerhouse can keep your essential devices running while you're off the grid. Whether you're charging your smartphones, running a mini-fridge, or powering up lights and fans in your trailer or campsite, the Jackery Solar Generator 2000 Pro covers you.
One of its standout features is its impressive expandability. You can connect up to six 100W solar panels to it, allowing you to be fully recharged in about 5.5 hours. Plus, it can simultaneously power up to seven devices, making it perfect for group outings.
Are you worried about noise and emissions? The Solar Generator 2000 Pro runs silently and emits zero fumes, ensuring a peaceful and eco-friendly camping experience. With its user-friendly LCD screen, you can easily monitor the battery status and remaining runtime, so you're never caught off guard.
Jackery Solar Generator 3000 Pro 
For those who demand even more power and versatility during their Trailer/Camping adventures, the Jackery Solar Generator 3000 Pro is the ultimate choice. With a substantial 3024Wh capacity, this beast of a generator can handle the energy needs of an entire campsite.
Equipped with a robust pure sine wave inverter, it can power a wide range of appliances and devices with ease. From running your RV's air conditioner to charging multiple laptops and smartphones, the Jackery Solar Generator 3000 Pro is up for the challenge.
Like its smaller sibling, the Solar Generator 3000 Pro is incredibly quiet, emission-free, and features a user-friendly LCD screen for easy monitoring. With the ability to power up to eight devices simultaneously, it's the perfect choice for larger camping groups or those with high power demands.
Both the Jackery Solar Generator 2000 Pro and 3000 Pro are designed to elevate your Trailer/Camping experience, providing reliable power and the freedom to explore off-grid locations without compromise. Choose the one that best suits your power needs and embark on your next adventure with confidence.
Tailgate Party
The importance of the Tailgate Party before a sporting event can never be disputed because it allows you to get the necessary energy after intense activity. However, the most important point is the opportunity to spend time with your friends.
Since this is an outdoor activity, one of the first items you should buy is a solar station. These can be purchased at affordable prices with Jackery Prime Big Deal Days. If you are thinking about which models you can buy, the Jackery Solar Generator 500 is one of them.
Although the energy it provides is relatively low, it can still offer you appropriate solutions if you want a casual chitchat. This capable outdoor power equipment is compact and portable, providing 518W power, and operates silently without disturbing you. If you are wondering what you can do with this power, it can be summarized as follows:
A 18W phone: 22.6 charge
A 60W TV: 7.5H
A 300W Blender: 7H
A 350W Space Heater: 1.5H
A 550W Coffee Maker: 0.8H
In this respect, the Tailgate Party can thus be much more beautiful. Jackery Solar Generator 1000 Pro is among the options if this power is insufficient.
However, if you are going to have a party with many people, you will cook more food. This increases your needs visibly. For this, Jackery Solar Station 2000 Pro can help you with its 2160Wh power.
Apart from this, such products can also be used for camping power banks. Some suggestions can be given like this. But the basic thing is your needs.
What to Look for When Choosing Portable Solar Power Generations?
If you want to buy a solar station by taking advantage of Prime Big Deal Days, Jackery offers you many options. Although recommendations can be made, what you should definitely always do is personal investigations. This way, you can better discover what suits you best.
Power Capacity
In general, the first thing that is recommended to look at when buying a solar station is how much power it can produce. Otherwise, after purchasing it, it is likely to be far below your needs, thus making it virtually useless. Such a situation will also negatively affect your camping experience.
So, how should you evaluate this? It is recommended that you make a list of which electrical items you use during outdoor activities and then look at how many watts of power they consume. After collecting all of these, you can find which one of the products offered by Jackery is suitable for you. You can take advantage of Prime Big Deal Days before they end.
Portability
If you are going to buy a power station for camping, the second thing you should remember is this: you will be mobile. For this reason, the power generator you buy should also adapt to this. In other words, it should be easily portable and should not cause you any difficulties during the trip.
A solar generator that is too heavy will create a big challenge while camping. Also, it may be possible to carry it if it is too heavy. For example, Jackery 100W Solar Generator and Jackery 500W Solar Generator may be some of your choices in this context. However, one thing you should remember is that portable products power fewer devices in less time.
Charging Time
One of these is how long it takes for the generator to charge. This period may vary from capacity to capacity. Charging time can be explained by how long it takes for the solar generator to fully charge. In other words, it defines how many hours you will start using electricity. It is recommended always to charge it as soon as possible and allow it to be used.
Output Ports
Output basically defines the power output of the charger. This is one of the issues you should pay attention to when buying a solar generator. This means two things. The first thing to consider is what type of charger we can use when wall-charging the product. Secondly, what kind of output should the electrical products you will connect to it have?
You should always ensure these output points are compatible with the products you want to charge. 
Durability and Weather Resistance
Considering Canada's weather, weather compatibility is one thing you should remember when purchasing a Solar Station. The solar generator you purchase should be able to be used efficiently regardless of the weather outside. In other words, you should be able to continue using it without having to worry in case of rainy weather, and you should not have to carry it indoors.
In addition, importance should be attached to ensure that it is of good quality. It is possible to find these two together in all the products Jackery offers. In this regard, you can immediately take advantage of the Prime Big Deal Days options and find the ones that best suit you.
Noise
Everyone wants some quiet while camping. However, a very noisy generator is almost indistinguishable from city life. Therefore, one should also consider how much noise it makes when purchasing. A good generator should run as quietly as possible but should also be able to meet your needs.
Conclusion
Daily life brings with it many troubles, problems, and troubles. If you want to escape these, an activity such as a small camping or RV trip is always recommended. This way, you can get away from the city for a bit; You can give yourself a break. You can also have the opportunity to see the beautiful natural places of Canada.
To maximize this experience, you should complete all the preparations beforehand. Power stations are one of the things that should be remembered in this context. Jackery offers different options to meet the needs of every outdoor lover. Join Jackery Prime Fall and make your Prime Big Deal Days. You can find the surprising bonus we offer.
---